Williamson 2014
Now over 100 years old, the Williamson Shield was up for grabs over the weekend of 22/23 February at the familiar venue of The Maynard Sinclair Pavilion. Always a popular event in the UCU calendar and this year the Shield found a brand new home for the next 12 months.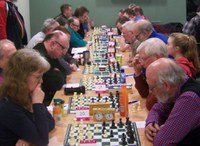 Day 1 Round 3
Williamson Shield
A competitive field of 10 reduced to 8 by the end of the weekend as Mike Redman and Michael Waters were unable to finish.
The missing boards upset the later pairings with final standings playing out more or less in rating order. Ross Harris though had an excellent tournament claiming 3rd place with 4 points while at the other end Danny Mallaghan struggled to find form failing to win a game.
Final standings
Gareth Annesley
Calum Leitch
Ross Harris
Williamson Challengers
A diverse field of 35 players - young & old, veterans and novices competed for Intermediate and Junior honours. A couple of juniors took both honours this year topping the large field.
Thomas Donaldson (Ballynafiegh) took Intermediate title with 5.5 points; a clean sweep thwarted by Richard Morrow who forced a draw in round 4.
Visitor Eibhia Ni Mhuireagain grabbed the junior title with a strong 3.5 points. She opened her account with a good draw against Karina Kruk. With convincing wins against her junior peers, it was the intermediate opponents who gave her trouble.
Final Standings: Intermediate (above 1200)
Winner: Thomas Donaldson
Runners up: Richard Gould, Martin Kelly, Robert Lavery, Richard Morrow, John Phillips, Mohamed Saad and Peter Wilson
Final Standings: Juniors (below 1200)
Winner: Eibhia Ni Mhuireagain
Runners up: Adrian Dornford-Smith, Michael Morgan, Phillip Morrison, Colm O'Muireagain and David Seaby

Round-by-round
Round 1
The first round in a Swiss tournament is usually pretty predictable, but there were a few surprises on Saturday morning; Michael Waters and Nicholas Pilkiewicz were held to draws by Danny Mallaghan and Ross Harris respectively in the Senior event, while in the Challengers Alan Burns and Pat McKillen fell to Michael Morgan and Ross Smith respectively.
Round 2
There was more bad news for Waters in round 2 as it was the turn of Brendan Jamison to take a half-point off him. Mike Redman and Calum Leitch finished the round as joint leaders after wins over Gareth Annesley and Pilkiewicz. In the Challengers, the top seeds Thomas Donaldson and Shane Keers made no mistakes as they beat CJ Murphy and Martin Kelly to reach 2/2.
Round 3

Things went from bad to worse for Waters as he was defeated by Annesley, effectively ending his hopes of retaining the Shield. Harris picked up another good result as he drew with the black pieces against Leitch. Redman, meanwhile, had other matters to attend to that evening, and would play no further part as he would eventually withdraw. On the top board of the Challengers section, top seed Keers was beaten by John Phillips, who would go into Sunday as joint leader along with Donaldson and Richard Morrow.
Round 4
Gareth Annesley and Ross Harris jointly moved into the lead with wins over Calum Leitch and Mark Newman, and it was during this round that Michael Waters was disqualified. The Challengers section saw Thomas Donaldson drop his only half-point of the tournament to Richard Morrow, while Mohamed Saad moved into contention with a win over Shane Keers. Phillip Morrison sprung a surprise by defeating Alan Burns, and it wouldn't be his only scalp of the tournament.
Round 5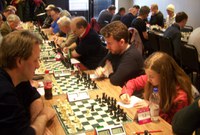 Harris' run of good results finally came to an end as he was defeated by Annesley on top board, while Leitch saw off Danny Mallaghan to move into second. In the Challengers, Donaldson and John Phillips each won their games to set up a final-round shoot-out for the Intermediate title while a few players in the Junior section were performing very well against higher-rated opposition, not least Eibhia Ni Mhuireagain, whose win took her to 3.5, and Morrison, who beat his second 1300+ player in a row - in this case, Martin Kelly.
Round 6
Having faced each other earlier in the tournament, leader Annesley and Leitch, half a point behind in second place, were drawn against separate opponents for the final round. Leitch held up his side of the equation with a win over Brendan Jamison, but Annesley defeated Mallaghan to take home the Shield outright for the first time, after placing joint first in 2009. In the Challengers, Donaldson and Phillps would compete directly for the Intermediate title on board 1 while the winner of the board 2 game between Robert Lavery and Richard Gould would enter a three-way tie in case of a draw on the top board. In the end, Donaldson made short work of Phillips and Gould, in a position where he was material up but well down on the clock and facing counterplay offered a draw, which Lavery gladly accepted in order to guarantee a share of second place for both players. Junior leader Ni Mhuireagain lost to Saad, but her nearest challenger Morrison never looked likely to capitalise against Karina Kruk.
Related Links
Williamson Shield 2014 standings
Williamson Challengers 2014 standings
Williamson Shield Trophy & Winners