B&D League - Part 2, Week 12 round-up
Bangor beat NICS to officially seal the John Strawbridge Cup, but the Silver King is still very much up for grabs as Lindores edge out Fisherwick.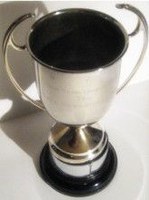 Off to the seaside
Division 1
Fisherwick 2-3 Lindores
Lindores kept their title chances well and truly alive with a win over champions Fisherwick. The match started well for Fisherwick as Gavin Fong made short work of Ross Harris, while John Cairns defended well against a strong sacrificial attack from Alan Delaney, forcing a draw by repetition. The board 1 clash between Michael Waters and Gabor Horvath, the two top-rated active players in Ulster chess, seemed to be going the Fisherwick man's way as he obtained a favourable endgame in return for an exchange, but Horvath's excellent endgame technique gave Lindores a vital half-point. Lindores then drew level as Fred MacDonald got the better of a tricky endgame against Callum Ormerod, leaving John Masterson and Calum Leitch to battle it out for the match. In a bizarre finish, Leitch blundered, allowing a fork of his king and rook - which Masterson failed to spot, resigning instead. Masterson was doubtlessly kicking himself after realising his mistake, and will probably do so again if it means Lindores win the league. That said, with a match in hand and an easier run-in, Fisherwick are still favourites to make up the four-point gap to Lindores and win their fourth successive Silver King, but Lindores are still very much in the hunt.
Muldoons 1 4-1 Ballynafeigh 2
Muldoons 2 defeated a weaker-than-usual Ballynafeigh 2 team to effectively guarantee third place. Gareth Annesley opened the scoring with a win over Damien Cunningham, thanks to Annesley's white knight wreaking havoc in the black position. Ken Millen then fell to Des Moreland, while Soren Jensen pulled one back for the visitors with a win over Nicholas Pilkiewicz. Stephen Wood secured the match for Muldoons 1, though, with a win over Eoin Carey. The final game to finish was the board 3 encounter between 2013 Ulster Intermediate Champion Robert Lavery and 2013 Irish Intermediate Champion Danny Mallaghan. Despite giving away nearly 300 rating points, Lavery made it clear that he was playing for the win as he sacrificed a knight with the intention of blowing open Mallaghan's king position, but was eventually forced to admit defeat as Mallaghan had everything covered.
Lagan 3.5-1.5 Ballynafeigh 1
Lagan closed the gap at the bottom of Division 1 with this win over Ballynafeigh 1, achieved thanks to wins for Chris Kelly and William Storey over Ram Rajan and John Price. The match also saw a creditable draw for John Nicholson against David Houston.
| | Played | Points |
| --- | --- | --- |
| Lindores | 20 | 102.5 |
| Fisherwick | 19 | 98.5 |
| Muldoons 1 | 19 | 87 |
| Ballynafeigh 1 | 21 | 78.5 |
| Ballynafeigh 2 | 19 | 67 |
| Belfast South 1 | 20 | 60.5 |
| Lagan | 20 | 60 |
Division 2
Ballynafeigh 3 0.5-4.5 Belfast South 2
Belfast South 2 eased to victory away to Ballynafeigh 3. Only a draw by Paddy Magee against John McKenna saved the home side from a whitewash, although with over 400 rating points separating the two  it was quite a draw.
Ballynafeigh 4 1.5-3.5 Muldoons 2
Muldoons 2 improved their chances of avoiding the wooden spoon with a win away to Ballynafeigh 4. There were wins for Steven Eachus, James Waddell and Pat McKillen, while the debuting Gerard Bannon gave the home side their sole win against Paddy Maguire.
Bangor 3-2 NI Civil Service
Bangor confirmed their status as Division 2 champions with a 3-2 win over their nearest rivals NICS. Going into the match, Bangor only needed to score 1.5 points for their lead to become unassailable, and soon they were two-thirds of the way there as Walter Wilson blitzed Drew Ferguson. Adrian Dornford-Smith put the celebrations on hold, however, with a win over Garry Johnston. However, with the home side being higher-rated on all boards bar the top board, it was inevitable that the breakthrough would occur at some point, and it was Alan McConnell who would ensure that the John Strawbridge Cup would be coming to the Groomsport Church of Ireland Hall with a win over Alan Burns. Burns battled gamely despite going a rook down early on, but McConnell had too much in the end. Both remaining games fizzled out into draws, giving Bangor a 3-2 win.
| | Played | Points |
| --- | --- | --- |
| Bangor (Champions) | 10(+10) | 82 |
| NICS | 9(+10) | 53 |
| Fruithill | 8(+10) | 43.5 |
| Belfast South 2 | 10 | 40.5 |
| Ballynafeigh 3 | 9(+10) | 27.5 |
| Ballynafeigh 4 | 10 | 27.5 |
| Muldoons 2 | 10 | 26 |