Website Improvements
In addition to the release of the UCU Monthly Newsletter, the Web Team have made a few changes to the website to make it more accessible to members. We are also bringing in a substantial body of historical articles for the UCU Archive.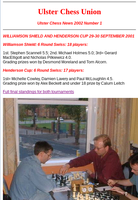 Ulster Chess News 2002
The Web Team led by the Web Master and Web Editor have added several new features to the Union's web presence. The release of a monthly newsletter is reported elsewhere; here we report a couple of other changes.
Club Pages
Not every club has or wants its own website. Nonetheless it can be useful to have somewhere to promote the club, advertise club nights and maybe offer the occasional article or report on club activities.
The UCU site has always had a "Clubs" section but this was managed by the Web Team only. Now each club has its own mini-website were members of the club can post articles, upload photo albums, show off games, promote events, etc. For example, have a look at NICS club site:
Indeed all club members have access to these articles which can then be built-up in a collaborative way. A structure has already been created for storing news items, event announcements and photo albums - these are available to any club member with a login.
Any news item or event announcement published in a club's sub-site will be automatically added to the Union calendar and the sites front-page.
To assist secretaries and team captains, a list of registered players is also included within the club web-site; this is managed automatically for clubs in association with the Rating system.
UCU News & Archive Data
With various changes made to the results database a number of new feature have become available. These include the facility for indicating which player or team won a tournament. This information is then used to compile various lists
honours lists: an historical list of who held various honours or titles
trophy winners lists: an historical list of who won a particular trophy
personal achievements: each members records show honours and trophies they have won and offices they have held
officer lists: historical lists of who held various posts within the Union and affiliated clubs
Compiling and updating these lists is still work in progress. The consolidated officer list is not available just yet although individual players may have officer assignment recorded on their personal pages
Our primary source of information, of course, comes for David McAlister's records. David has donated his copies of the quarterly Ulster Chess News which he published through his own website for a number of years. These documents are being revised and reordered to complement our existing archives in our Ulster Chronicles. Included in these reports are many annotated games which will be available too; all games and game-sets on the site are collated in a Games Archive (only available to members).
This effort is also a work-in-progress.