Ballynafeigh 2 1.5-3.5 Lindores
Ballynafeigh 2's tough start to the season continues with a defeat to Lindores, but there was some entertaining chess along the way.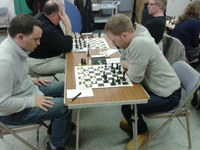 Top board - Horvath vs Redman
Following a 3-2 defeat to Ballynafeigh 1 in week 2, Lindores - the newly-formed Newtonards Road chess club headed by ex-Ballynafeigh man Calum Leitch - made their second trip of the season to the Ormeau Road to face Ballynafeigh's second team. With the exception of Ian Kilpatrick in place of Shane Keers on board 5, they brought the same team.
Meanwhile, Ballynafeigh 2 were being thrown in at the deep end - this would be the last of a trio of fixtures in which they would be pitted against what are probably the three strongest teams in the league - Muldoons, Fisherwick and Lindores - not to mention their week 1 opponents Belfast South, who are no slouches themselves. Still, Ballynafeigh 2 were actually fielding a team stronger than the Ballynafeigh 1 side that defeated Lindores two weeks ago, so hopes were high for the home side.
These hopes were dented early on, though, as Robert Lavery miscalculated a kingside attack and gifted a rook to Ian Kilpatrick within twenty moves to give Lindores a 1-0 lead. The match still appeared winnable, though, as Ballynafeigh 2 had built up significant clock advantages on the other four boards, with Brendan Jamison a knight up on board 4 and a kingside attack seemingly in the making for Mike Redman on board 1.
After Cunningham and Leitch agreed a draw on board 2, the home side's winning chances disappeared completely when Ross Harris put an end to Stephen Rush's winning streak on board 3. Both Redman and Jamison needed to deliver the goods in order for Ballynafeigh 2 to avoid defeat for the first time. The latter did just that, breaking down Paul McNaughton's stubborn resistance to close the gap to 2.5-1.5.
Back on board 1, Mike Redman was material up but had to contend with Gabor Horvath's dangerous queenside pawns and was getting short on time himself. They played an exciting endgame where the result was in doubt almost until the handshake, but eventually it was Horvath who claimed the win for Lindores, his pawns proving to be too strong to handle.
For Lindores, this result could prove vital for their title ambitions. For Ballynafeigh 2, the hard part of the season is essentially over - they will play whipping boys Ballynafeigh 3 next week, where anything short of a whitewash will be considered a disappointment, while there will be further ample opportunities to rack up the wins in the weeks ahead.
In the night's other match between Ballynafeigh 1 and Fruithill, David Houston was staring down the barrel of a nearly-400-point upset against Ciaran Marron, an exchange down with possibly the worst light-squared bishop in the history of bad bishops (and the match finely poised at 2-2 to boot) until Marron blundered a rook, and the game, and the match with it, to spare Ballynafeigh 1's blushes.