B&D League - Part 2
Part 1 of the League has finished albeit with one result awaiting adjudication. However, this won't affect the split which is made all the more interesting with an influx of a few extra teams. The League Controller has released the fixtures lists too so the cup races begin in earnest on 27th January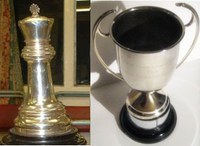 Divisional Silverware
Part 1 Summary
11 teams competed in the first part of the League and while the tail-end settled down fairly quickly with Fruithill and NICS well rooted to the bottom along with Ballynafeigh 3. Surprising perhaps for Fruithill & NICS to struggle to get points but this was more a mark of the strength and depth in the other teams.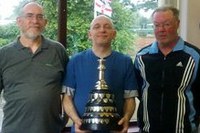 Fisherwick certainly started as obvious top seeds but strong challenges arrived initially from a Dutch-enhanced Belfast South with more sustained pressure coming from a stable Lindores team, a Muldoons squad that has grown in strength through the season and the Ballynafeigh top teams. Lagan struggled to get their usual robust team out on a regular basis and for Bangor, the early part of the season was a disaster though they have since recovered. It has only been in the last couple of fixtures in 2014 that the middle of the table has sorted itself out to make a clear distinction between top and lower sections, who is in and who is out.
New Teams
Fortunately 3 clubs now have a surplus of players, many wanting to compete regularly.  So  3 new teams are entering the competition; adding them at the bottom makes for a reasonable split into two equal Divisions. The new teams will start in Divison 2:
Belfast South find room for an extra 5 regular players
Ballynafeigh stretch themselves to a fourth squad
Muldoons overflow into a second team
None of these teams will be carrying any points advantage into the Division so it is unlikely they will be in the running as cup winners. But it is more than likely that they will have an impact on who does lift the Division 2 title this year.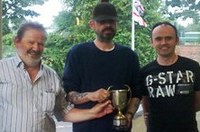 The rationale is that this is a trial period to let the clubs try out fielding an extra team giving more members a regular, competitive game each week. If everything works out well, next seasons league fixtures can begin with a full set of 14 teams.
Divisional Split
So it is teams have been split at a convenient 50% performance mark. In ranking order the Divisions start out as:
Div 1: for the Silver King Fisherwick, Muldoons, Lindores, Ballynafeigh 2, Ballynafeigh 1, Belfast South and Lagan just sneaking in
Div 2: for the John Strawbridge Cup headed by Bangor, Fruithill, NICS and Ballynafeigh 3 plus newbies Ballynafeigh 4, Kellys Heroes and Muldoons 2
Surprisingly, point tallies are fairly well spreadout; not much room for a bad night. Consistency could well prove the winning strategy and with 12 fixtures taking us into May, that could be a challenge for some.
Fixture Lists
The fixtures lists have been published by the League Controller and are now available through our Results Service. As ever, if team captains report match results promptly then the Results Service team - lead by Robert Lavery this year - can bring you Divisional standings weeb-by-week. Check out the side-bar links on the left for shortcuts to the League Division competition pages: standings, fixtures and detailed board results.
As you will see there is a full schedule ahead with each division running on till w/e 9th May
Update 24th Jan
The League Controller has adjudicated the final Belfast South vs Lindores as a win 3-2 for Lindores; the League results & standings already reflect this decision and are now complete