B&D League - Part 2, Week 10 round-up
Lindores are almost tripped up by an under-strength Ballynafeigh 1 team, and Bangor go even further ahead in Division 2 with a dominant whitewash of Muldoons 2.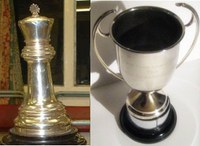 Division 1
Muldoons 1 3.5-1.5 Belfast South 1
Mulddons 1 defeated Belfast South 1 in a match where the home side's superior strength in depth made the difference. BS1 matched their opponents blow-for-blow on the upper three boards, but John Bryars and David Ruben had it all to do on boards 4 and 5 against Danny Mallaghan and Nicholas Pilkiewicz, each rated around 300 points higher - both these games, and the match with them, went Muldoons 1's way.
Ballynafeigh 1 2-3 Lindores
Lindores continued their hunt for the Silver King at Ballynafeigh 1, who were forced to field a depleted team after Damien Lavery and Chris Black had to pull out. On paper, only the board 1 match between David Houston and Gabor Horvath looked to be in any way competitive, with Lindores at least 250 points higher-rated on every other board, but on the night the home side put up a spirited performance, coming very close to severely denting Lindores' title hopes. Paul McNaughton drew first blood for Lindores against Bill Lavery, but when Mark Hewitt (1120) achieved a draw against Ian Kilpatrick (1534) it was clear that Lindores would be made to fight for the win. On board 2, Calum Leitch was pitted against the player no-one wants to be pitted against right now - Thomas Donaldson. After going three pawns up Leitch could be forgiven for thinking the job was done, but Donaldson unleashed a monster knight sac followed by a spectacular king hunt to level the match. Fred MacDonald, too, had an unexpectedly hard time of it; Dennis Wilkinson gave away over 500 rating points and was coming under heavy pressure after two pawn sacrifices from MacDonald, but he defended well and hung on for an excellent draw. It was left to Houston and Horvath to decide the match outcome; Houston had a large clock advantage and a slightly better position for most of the game, but some first-class endgame play from Horvath (and under severe time pressure, to boot) gave Lindores those vital bonus points. They are four points ahead, but given that Fisherwick have a match in hand they will have wanted a more substantial cushion.
Lagan 3-2 Ballynafeigh 2
Lagan took advantage of some key Ballynafeigh 2 absences - not least the Ulster Champion Mike Redman - to win 3-2. Chris Armstrong got Lagan off to a good start by steamrolling Paddy Magee's queenside, and wins for Thomas Esmonde and Peter May sealed the bonus points for the home side. Soren Jensen claimed a point for the visitors against George Heathwood, as did Eoin Carey in a scrappy encounter with Dominic Gallagher.
| | Played | Points |
| --- | --- | --- |
| Lindores | 18 | 94 |
| Fisherwick | 17 | 90 |
| Muldoons 1 | 17 | 77.5 |
| Ballynafeigh 1 | 19 | 75 |
| Ballynafeigh 2 | 17 | 61 |
| Belfast South 1 | 19 | 60 |
| Lagan | 19 | 54.5 |
Division 2
NI Civil Service 2.5-2.5 Belfast South 2
NICS and "Kelly's Heroes" shared the points at the Pavilion. The home side will definitely be happier with this result - Geoff Hindley (1019) did very well to beat Martin Kelly (1359), while Adrian Dornford-Smith (986) held Cathal Murphy (1302) to a draw.
Bangor 5-0 Muldoons 2
Bangor whitewashed bottom team Muldoons 2 to take another step towards the John Strawbridge Cup. The visitors were out-rated on every board, but not by much - the biggest gap was between Paul McGuigan (1696) and Peter Wilson (1411) on board 2. This result puts Bangor 24 points ahead of their nearest rivals NICS, and as a measure of their dominance, the gap from NICS to Muldoons 2 is only 3 points greater.
Ballynafeigh 3 vs Fruithill was postponed.
| | Played | Points |
| --- | --- | --- |
| Bangor | 8(+10) | 70 |
| NICS | 7(+10) | 46 |
| Fruithill | 7(+10) | 40 |
| Belfast South 2 | 8 | 34 |
| Ballynafeigh 3 | 7(+10) | 21.5 |
| Ballynafeigh 4 | 7 | 20.5 |
| Muldoons 2 | 8 | 19 |