B&D League: week 1
The first week of this seasons Belfast & District is now complete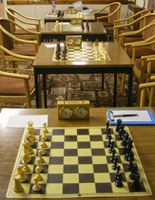 It seems every year brings a raft of personnel and club changes; amazing really considering the number of players involved. This year was no exception:
two new clubs enter the fray: NICS playing out of Maynard Sinclair Pavilion while Lindores home venue is Lindores Cafe near Holywood Arches
two clubs change their venue: Belfast South move to the Bankers Club, Mallusk move to Muldoons Bar
and sadly we bid farewell to Bombardier who withdrew at the last moment
After several years of sterling service, Kevin Agnew is bowing out with Robert Lavery stepping up to replace him as the "goto guy" for league results. Thanks Kevin for all your efforts; Good luck Robert - Kevin will be a tough act to follow.
Remember, all results should be sent to results at ulsterchess.org (there is a link at the bottom of the page). Late or missing reports will be penalised with point deductions.
Week 1 Performance
After last year's rankings, Fisherwick must start as favourites though the usual top-heavy Ballynafeigh 1 team jangled a few nerves losing by only a single point. Another top-heavy Ballynafeigh 2 team lost by the same margin to a solid Belfast South outfit; could the new boys pose a realistic threat to their erstwhile comrades in Fisherwick? Meanwhile Lagan marked the cards of an upstart NICS team though the home team generously gave up 1.5 points to give Lagan a comfortable win. Bangor kicked off with a resounding whitewash of a weakened 4-man Ballynafeigh 3 squad. Likewise an extremely strong Lindores demolished homebirds Fruithill; looks like Lindores might have only the one game plan - either full on or ...erm... full on.  And of course, the ambitious Muldoons have yet to show what they are capable of.
It is tempting to imagine the clubs are split more or less as they were last year but there is clearly the potential for some upsets ahead. The middle section of this first part of the competition will be hard to predict and looks like both top and bottom may not be that easy to call either.
An interesting season ahead; watch this space!