Ballynafeigh 2 vs Fruithill
After whitewashing Ballynafeigh 3 last week, could Ballynafeigh 2 build on that result against stiffer opposition?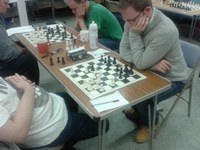 Mike Redman on his way to victory over Fruithill's Ciaran Marron
After four consecutive defeats, Ballynafeigh 2 finally kick-started their season in Week 5 with a 5-0 win over the mighty... Ballynafeigh 3. With renewed confidence, they welcomed Fruithill, who earlier in the season had whitewashed Ballynafeigh 3 and then gave Ballynafeigh 1 an almighty scare until Ciaran Marron blew a won position against David Houston. They would most assuredly pose some problems for Ballynafeigh 2... or would they?
While they have tended to field under-strength teams away from home this season, they brought a stronger team than they did against Ballynafeigh 1; Marron, Fisher, Robinson, Louis Holmes and Charlie Logan. Ballynafeigh 2 went with their usual quintet, albeit in a slightly changed order; Redman, Jamison, Rush, Cunningham and Robert Lavery.
It was Damien Cunningham who drew first blood for Ballynafeigh 2, seeing off Louis Holmes in a double-edged encounter on board 4; some of the variations analysed in the post-mortem were hair-raising to say the least. Board 5 was the next to go, after Robert Lavery overwhelmed Charlie Logan on the kingside. A few minutes later, Brendan Jamison sealed the win for Ballynafeigh 2 with victory over Neil Fisher. Could another whitewash be on the cards?
In the only game of this match not to begin with a Sicilian Defence, John Robinson faced Stephen Rush. With the black pieces, Rush played a Nimzo-Indian and saddled Robinson with doubled c-pawns, which proved to be sitting ducks in the endgame. Four-nil.
It was left to Ciaran Marron on top board to salvage some pride for Fruithill, but after failing to demonstrate compensation for the pawn in the somewhat dubious Wing Gambit against the Sicilian Defence he faced an uphill struggle against the Ulster Champion Mike Redman, whose passed a-pawn caused serious problems. While he eventually managed to eliminate the advanced pawn, by that point Redman was on the verge of crashing through on the kingside and securing a second consecutive whitewash for Ballynafeigh 2.
Alongside this match, there was the likely wooden spoon decider between Ballynafeigh 3 and NICS which the latter won 4-1, but that 1 represented an important milestone for Ballynafeigh 3 as they won their first game - take a bow, Paddy Magee!
Next week sees the third Ballynafeigh derby of the season as Ballynafeigh 1 play Ballynafeigh 2. Suffice to say, this promises to be a somewhat closer contest.