UCU Newsletter
The UCU Web Team have just finalised the Union's monthly newsletter. The first issue should be sent out over the first weekend in November. If you have not been subscribed, use the sign-up tool to add your name for the next issue.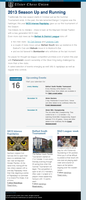 Issue 2013-11
After several months in development, the UCU Web Team are pleased to announce the Union's monthly Newsletter.
This first and subsequent issues contain 3 main parts:
a quick review of what has happened during the past month
details of forthcoming events as advertised in the UCU calendar
a selection of 3 articles posted to the site, usually including any tournament reports in the past month
The newsletter is issued by email to registered subscribers only. To sign-up to receive the newsletter, add your email address using the gadget in the left sidebar of the website.
Email addresses added to the subscription list are held securely by the UCU and no addresses will be released to any third-party. We take your privacy very seriously and the security surrounding our subscription list is appropriately high. We have partnered with MailChimp for the delivery of the Newsletter and in line with best anti-spam practices, offer comprehensive verification and simplified unsubscribe services.
To receive the Newsletter you must first explicitly opt-in to the service after which you will receive an email asking you to confirm you do indeed wish to receive the newsletter. This serves to validate your email address and ensures someone else is not signing-up on your behalf.
Initially we have automatically subscribed 123 email addresses gathered from various UCU contact lists. If you have not received any contact about the newsletter (check your junk or spam folders too) by the time this article is published, your address in not on this list; simply add it through the gadget on the UCU website.
Only articles posted through the UCU site will be referenced in the Newsletter. All members are encouraged to contribute articles to the UCU website on any subject of interest to fellow members. There is a growing collection of help pages, FAQs and HowTo articles to help create attractive articles; no special skills are required. If you can edit a Word document, you can create an article.To begin creating articles
make sure you have a login for the site; contact the Web Master
login to the site and review some of the documentation
access your personal folder and create an article
submit your article for publication
Our site has a moderation process for the review of articles before they are published. Contact the Web Editor for more information.
For the moment, the Web Team will be managing the Newsletter until a volunteer steps forward. Contact the News Editor on any issue to do with the Newsletter