Ballynafeigh 2 vs Fisherwick
On October 29th, the Silver King holders visited Ballynafeigh Community House.
On October 29th Fisherwick provided the opposition at Ballynafeigh Community House. Could Ballynafeigh 2 claim the scalp of the Silver King holders?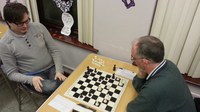 John Bradley plays Robert Lavery
It hasn't been a great start to the season for Ballynafeigh 2, despite counting among their number the Ulster Senior and Intermediate Champions. In their opening fixture against Belfast South, they were seemingly home and dry at one stage - 2-1 up, and with advantageous, if not outright winning, positions on the other two boards. However, Ballynafeigh 2 let them both slip and fell to a 3-2 defeat. The following match against Muldoons, while not as dramatic, led to the same scoreline.
So when champions Fisherwick came to Ballynafeigh Community House for this week 3 fixture, the result may have seemed a forgone conclusion. Ballynafeigh 2 had an ace up their sleeve, though, in the form of Stephen Rush, who had apparently never played competitive over-the-board chess before this season, yet had a 100% record going into this encounter, thanks to victories over John Bryars and Richard Gould. His blistering start continued as in the first game to finish he defeated Ian Woodfield to put the home team into the lead.
On board 3, Brendan Jamison and Callum Ormerod shared the point while Michael Waters beat Mike Redman on top board to level the match at 1.5 each, setting up exciting climaxes on boards 2 and 5. Robert Lavery had winning chances in the latter by way of his menacing-looking kingside pawns, but couldn't convert his advantage and had to settle for a draw. 2-2.
Everything, then, hinged on Damien Cunningham and John Cairns on board 2. Cunningham had a clock advantage and an outside passed pawn in a bishops-of-same-colour and pawns endgame, but made a crucial error upon which Cairns swiftly capitalised despite his time pressure.
In the end, yet another 3-2 loss for Ballynafeigh 2, but against the champions this was a creditable result. Ballynafeigh 2 will face another stern test against Lindores next week as they look for their first match win.
Also taking place at the same venue that night was the first Ballynafeigh derby of the season as Ballynafeigh 1 played Ballynafeigh 3. The big story of that encounter was John Price claiming Ballynafeigh 3's first half point against Barney McGahan as they avoided a third successive whitewash.
After 31...Nh3+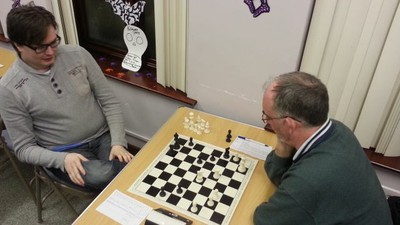 Full-size image:

53.8 KB

|

View

Download