B&D League - free week update
Title rivals Fisherwick and Lindores played rescheduled matches on the 28th of April - would this be the night the title was decided?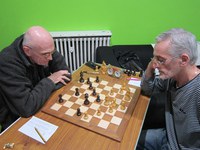 The game that won the title for Fisherwick
The week commencing the 28th of April was designated as a free week in the league schedule, giving teams a chance to fulfill their postponed matches. On Monday night, champions Fisherwick were at home to Ballynafeigh 2, whom they had drawn with in their scheduled match the previous week, while Lindores had a tougher test away to Muldoons 1. Going into the night's matches, Lindores were on 106 points with just that night's match to play, while Fisherwick were four points behind with an extra match to play.
The earlier of the two matches to start was at Fisherwick. The home side was mainly unchanged from last week, with Callum Ormerod taking the place of Ian Woodfield on board 4, while Mike Redman and Stephen Rush were unavailable for Ballynafeigh 2. On the other hand, WCM Karina Kruk, unavailable for most of the season due to her university studies in Coleraine, made her first league appearance of the season on board 4, while Dennis Wilkinson was drafted in on board 5.
Things started well for Fisherwick when John Cairns claimed a quick win over Damien Cunningham. On board 3, Robert Lavery carelessly dropped a pawn in the opening to Gavin Fong and never seriously looked like getting back into the game after that.
A good night for Fisherwick became even better when news filtered through that Lindores had been forced to forfeit their match against Muldoons 1; apparently, Lindores' board 1 Gabor Horvath was under the impression that the match would be played on Tuesday, and by the time Lindores captain Calum Leitch realised this the match was underway. Under the B&D League rules, not only would the home side be awarded that board by default, but all boards beneath it as well, meaning that although Lindores won 2.5-1.5 over the boards that were played, it would all be for naught as the match would officially go down as a 5-0 win for Muldoons 1.
This meant that a win for Fisherwick on the night would be enough to seal a fourth consecutive Silver King - the last time this was achieved was in the Seventies. The visitors were mounting a fightback, though - Ormerod allowed Kruk's bishop to skewer his rooks, Wilkinson was under pressure but putting up a stout defence against Norman McFarland, while the board 1 clash between Soren Jensen and Michael Waters looked as if it could go either way, with both sides on the attack - and in the end it was Jensen who made the breakthrough, converting a fierce attack into an unstoppable passed pawn. Kruk then converted her material advantage to level the match.
It was up to Wilkinson and McFarland on board 5, then, to decide the match. McFarland had built up a clock advantage and was intensifying the pressure on Wilkinson's weak c-pawn; it seemed like only a matter of time before McFarland sealed the match for Fisherwick, and in fact it was a matter of time as Wilkinson over-stepped the time limit in a lost rook and pawns ending, giving Fisherwick the title.
In Division 2, Fruithill beat Ballynafeigh 3 4-1 while Muldoons 2 beat NICS 3.5-1.5. Going into the final week's play, the tables look like this:
Division 1
| | Played | Points |
| --- | --- | --- |
| Fisherwick (Champions) | 21 | 107 |
| Lindores | 22 | 106 |
| Muldoons 1 | 21 | 99.5 |
| Ballynafeigh 1 | 21 | 78.5 |
| Ballynafeigh 2 | 21 | 72.5 |
| Belfast South 1 | 21 | 64 |
| Lagan | 21 | 61.5 |
Muldoons 1 can sneak into second place with a whitewash of Ballynafeigh 1. Of the teams aiming to avoid last place, Belfast South 1 have the easier job with a 2.5 point head start and the easier opposition; Ballynafeigh 2, as opposed to the retaining champions Fisherwick.
Division 2
| | Played | Points |
| --- | --- | --- |
| Bangor (Champions) | 10 (+10) | 82 |
| NICS | 11 (+10) | 61.5 |
| Fruithill | 9 (+10) | 49.5 |
| Belfast South 2 | 11 | 47 |
| Muldoons 2 | 11 | 31.5 |
| Ballynafeigh 3 | 11 (+10) | 28.5 |
| Ballynafeigh 4 | 11 | 28 |
As with Division 1, the big question in the final week is who will finish last; Muldoons 2, who seemed for a long time to be heading for the wooden spoon, have had a good run of form recently and are 3.5 points ahead of Ballynafeigh 4. It was a good effort, but it seems that one of the Ballynafeigh teams will be propping up the table when all is said and done. Meanwhile, Belfast South 2 have confirmed their status as the best of the new teams that entered at the split.