Fruithill vs Ballynafeigh 3
Ballynafeigh 3 got themselves into hot water on Monday nights clash against Fruithill; the Ormeau Road novices were conceding an average of almost 500 rating points to their rivals on every board. This did not look good, but after two games a shock result looked in order.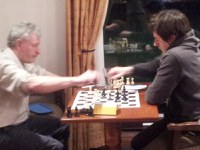 John Monaghan vs Eoin Carey
The unrated Paul Devlin of Ballynafeigh secured a victory on board 5 over Charlie Logan; quickly followed by a superb win for his  team-mate John Price who was 400 rating points behind his opponent Sean Linton.
Two matches gone and already Ballynafeigh 3rd team led the match 2-0. They only needed a draw in one of the remaining three matches to secure what would be an unbelievable result. Could they achieve their best result to date? The odds were heavily stacked against them
Mark Hewitt, board one of Ballynafeigh 3 was surrendering 500 rating points and twenty years of chess experience to Tony Parker of Fruithill but still  Mark managed to take it to the endgame only to falter to the superior pawn structure of Parker. Tony had pulled one back for Fruithill.
Barney McGahan of  Ballynafeigh 3 played board three and was giving away an astounding 700 rating points to his opponent, Ciaran Marron. Barney wasn't shy about accepting Marron's gambit, then adding to the material tally to go three pawns up! But Ciaran was able to maximize his superior development to offset the material disadvantage for special benefits
and tied the match at 2-2.
This left the match result in the hands of Ballynafeigh's Eoin Carey who has only been playing for a few months.  John Monaghan, the Fruithill captain, was defending. But it was Eoin, the Ballynafeigh new find, who won out in the end when John ran into time trouble while under pressure. Eoin's result gave the Ballynafeigh visitors an incredible outright win of 3 games to 2. The rest of the division need to take note, this result was no fluke; under-estimate this young squad at your peril!

The entire Ballynafeigh 3 team is a by-product of the Ulster Chess Union's floating system were players under 1350 can gain valuable match experience by being permitted to play for different teams within the same club in the same week, thus effectively doubling their opportunities of a seat at a board under competition conditions. This has meant inexperienced and  novice players get the over-the-board match practice they need to progress at  a much faster rate than would have been possible under a more rigid  system.  One of the better ideas to come out of the UCU in many a year.