B&D League - Part 2, Week 3 round-up
Lindores take the lead and Belfast South are involved in further controversy, but the big story of the week was in Division 2.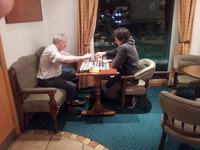 Fruithill vs Ballynafeigh 3
After a sizeable contingent of Ulster players made the trip to Co. Clare to play in the world-famous Bunratty Chess Festival (congratulations, by the way, are due to NICS's Adrian Dornford-Smith who took joint third in the under-1200 Minor section) it was right back to business in the Belfast and District League.
Division 1
Ballynafeigh 2 2-3 Lagan
Despite defeat in the previous meeting between the two sides, a stronger line-up and the absence of Stephen Rush for Ballynafeigh 2 meant that the visitors had every right to fancy their chances of turning the tables on their opponents. They were given considerable help early on as Robert Lavery, on board 4 for the home team, made what could only be described as a complete horlicks of the opening, handing the point to Gerald Harvey in just 12 moves. A fine effort from Bill Lavery (no relation), standing in for Rush, gave him the win over David Jackson on the bottom board, but Lagan did just enough on the other boards to ensure victory.
Lindores 4.5-0.5 Ballynafeigh 1
With Fisherwick having the week off, Lindores had an opportunity to take the top spot if they beat Ballynafeigh 1 by a margin of 4-1 or greater. They achieved this and then some, with only Fred MacDonald, their new board 3, failing to achieve the full point as Alan Thomason salvaged a half-point for the away side. Fisherwick may have a match in hand, but the pressure is on.
Belfast South 1 2-3 Muldoons 1
Despite failing to win a single game, Muldoons 1 came out on top at the Bankers' Club after the home side could only field four players (despite their second team being in action at the same venue and on the same night – more on that later). Ray Devenney, Sam Flanagan, Bruce MacLean and Graeme McCormick drew against Gareth Annesley, Danny Mallaghan, Nicholas Pilkiewicz and Stephen Wood respectively, with Muldoons' Des Moreland unopposed on board 5.
Standings
| | Played | Points |
| --- | --- | --- |
| Lindores | 13 | 68.5 |
| Fisherwick | 12 | 67.5 |
| Muldoons 1 | 12 | 57 |
| Ballynafeigh 1 | 13 | 48.5 |
| Ballynafeigh 2 | 12 | 47 |
| Lagan | 13 | 45.5 |
| Belfast South 1 | 13 | 45 |
Division 2
Fruithill 2-3 Ballynafeigh 3
At the outset of the season no-one seriously considered Ballynafeigh 3 to be anything other than cannon fodder for the other ten teams in the league – sure enough, they finished the first stage with a 0-10 record, picking up just three points along the way. When three new teams entered at the mid-season split, only Ballynafeigh 4 were expected to have anything to fear from them, to say nothing of the teams which had started the season and had already beaten them. However, in what has to be considered a resounding success for the league's floating player rule – as it has elsewhere on this site – Ballynafeigh 3 stunned the team that had whitewashed them in their previous encounter. While Fruithill had admittedly fielded a weaker team this time around, the same (in terms of ratings) could also be said of their opponents – for example, John Price, who was on board 4 for the first match, had been elevated to board 3 for the rematch. In truth, owing to the wealth of experience gained with the third (and now fourth) team, as well as occasional lower-board appearances with the first and second teams, and also to two promising new players recently unearthed by Ballynafeigh – Eoin Carey and Paul Devlin, who beat John Monaghan and Charlie Logan respectively, the strength of Ballynafeigh's lower order has increased significantly over the past few months. John Price (847) beat Sean Linton (1348), while Barney McGahan (1006) had Ciaran Marron (1700) on the ropes before eventually succumbing. A remarkable result.
Muldoons 2 1.5-3.5 Bangor
Bangor extended their lead at the top of Division 2 with a win at Muldoons 2. Paul McLoughlin and William McGrattan picked up wins on boards 2 and 3 against Peter Wilson and Rodney Orr respectively, while lower down the order there were a couple of exciting games; Kevin Agnew sacrificed a knight against James Waddell, who defended well to hold the draw, while Garry Johnston put on another quality defensive display to share the point with Paddy Maguire.
Belfast South 2 2-3 NI Civil Service
Although they were the equal of their opponents over the four boards played, Belfast South 2 fell to defeat as they failed to field a fifth player against NICS. Indeed, questions were asked over why they did not promote a player to their (also short-handed) first team and why, according to the complaint NICS filed with the League Controller, they apparently demanded that both opposing teams bring a full team of five players, even though each team's board 5 knew they would not get a game. As for the chess itself, George Jackson and Martin Kelly gave Belfast South 2 their two points while Mark Newman and Alan Burns secured wins for NICS on the top two boards.
Standings
| | Played | Points |
| --- | --- | --- |
| Bangor | 12 | 39 |
| NICS | 13 | 34.5 |
| Fruithill | 12 | 25.5 |
| Ballynafeigh 3 | 12 | 13.5 |
| Belfast South 2 | 2 | 4* |
| Muldoons 2 | 3 | 4* |
| Ballynafeigh 4 | 2 | 1.5 |