B&D League - Part 2, Week 2 round-up
Lindores gain vital ground on leaders and champions Fisherwick.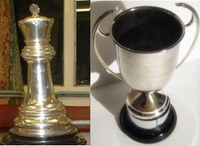 Division 1
Muldoons 1 2-3 Fisherwick
The champions paid a visit to third-placed Muldoons, who shuffled their usual board order (except for Gareth Annesley who remained on top) to disrupt their opponents' preparation. It didn't quite work, as the leaders took a narrow win. Michael Waters got the visitors off to a flying start on top board, but with the clocks ticking down, the other four games were on a knife-edge. In the end, John Cairns came through for Fisherwick on board 2 while boards 3 and 4 were halved, meaning that Nicholas Pilkiewicz's eventual mate of Ian Woodfield could not alter the destination of the bonus points.
Ballynafeigh 1 3-2 Belfast South 1
Despite eight-time Ulster champion Steve Scannell's shock defeat to Sam Flanagan, the home side claimed the bonus points thanks to wins for David Houston, Damien Lavery and a rampant Thomas Donaldson, who is well and truly running riot in the league this season - this win over Bruce MacLean puts him on 10.5/12.
Lagan 1-4 Lindores
Lindores closed the gap to Fisherwick with this win over Lagan. Tom Esmonde and Calum Leitch played a short draw on board 2, while on the next board down Fred MacDonald had a winning position against John Nicholson but found himself in severe time trouble. He displayed nerves of steel in converting his advantage, although Nicholson resigned when he probably could have won on time by playing on, so acute was the time pressure. Although William Storey salvaged a draw against Ian Kilpatrick on board 5 with a stalemate trap, Ross Harris and Gabor Horvath closed out the win for the visitors.
Standings
| | Played | Points |
| --- | --- | --- |
| Fisherwick | 12 | 67.5 |
| Lindores | 12 | 62 |
| Muldoons 1 | 11 | 52 |
| Ballynafeigh 1 | 12 | 48 |
| Ballynafeigh 2 | 11 | 45 |
| Belfast South 1 | 12 | 43 |
| Lagan | 12 | 40.5 |
Division 2
Ballynafeigh 3 3.5-1.5 Ballynafeigh 4
Ballynafeigh 3 claimed their first win of the season against their recently-formed sister team. New arrival Gregor Marcin wasted no time in opening his B&D League account with a win over James Weir on board 5. Mark Hewitt shared the point with Dennis Wilkinson on top board, while Eoin Carey and John Price sealed the win for Ballynafeigh 3.
NI Civil Service 4.5-0.5 Muldoons 2
NICS kept up the pressure on Bangor with a surprisingly easy win over Muldoons 2. Only Paddy Maguire's draw with Geoff Hindley prevented a whitewash as Newman, McAlister, Burns and Ferguson made short work of their respective opponents.
Bangor vs Fruithill was postponed, and the League Controller's decision on Muldoons 2 vs Belfast South 2 from last week remains pending.
Standings
| | Played | Points |
| --- | --- | --- |
| Bangor | 11 | 33.5 |
| NICS | 12 | 29.5 |
| Fruithill | 11 | 23.5 |
| Ballynafeigh 3 | 11 | 8.5 |
| Ballynafeigh 4 | 2 | 1.5 |
| Muldoons 2 | 1 | 0.5* |
| Belfast South 2 | 0 | 0* |
* - does not include match under adjudication