3 weeks to go
Only 3 weeks left in Belfast South's regular Monday tournament. Top honours are far from certain and there is just enough time for outsiders to get a couple of games in to meet the qualifying quota and maybe steal a win.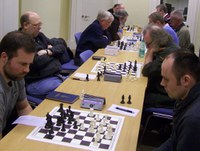 Chris Armstrong has roared back into the tournament and just about heads the leaderboard.
Philip Morrison leads on points with his frequent games but the winning criteria is the %-win rate through the competition with a minimum quota of 10 games to be considered for honours.
Bruce McLean and John Bryars have already qualified and are in good position. Ian Woodfield is out in the cold at moment, shy of 2 qualifying matches but an otherwise strong 69% performance keeps him in contention. Early challengers Peter Ratcliffe and Geoff Hindley have missed their opportunity to reach quota.
Most of the rest of the field have also passed their game count and have more than a statistical chance at tournament honours. The tournament is building up to an exciting finale; delayed by a week off on the 17th.
Competitors are reminded: Regardless of the overall number of games, 2 must be played within the last 3 weeks to be considered for prizes.