B&D League - Part 2, Week 14 round-up
Although both titles were already sewn up, there were still other matters at stake in the final round of the 2013-14 season.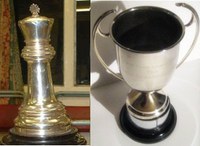 Division 1
Fisherwick 0-5 Lagan (forfeit)
Fisherwick were unable to fulfill their home fixture against Lagan as their venue was unavailable. For a while it seemed as though this might cost Fisherwick the title as the League Controller investigated whether the venue was genuinely unavailable, with a two-point penalty to be applied if the venue was found to be available, but in the end the penalty was not applied.
Muldoons 1 5-0 Ballynafeigh 1
A weakened Ballynafeigh 1 team visited Corporation Square and were seen off by Muldoons 1. Thomas Donaldson, on board 1 for the visitors, has been in spectacular form this season and even against the 1954-rated Gareth Annesley it would have been unwise to write him off - the Williamson Shield holder, however, proved too strong in the end. The other four boards though, proved to be serious mismatches as the home side didn't even need Nicholas Pilkiewicz to complete the whitewash which saw them pip Lindores to second place - his replacement, the unrated Andy Hughes, claiming the full point against John Price.
Belfast South 1 3-2 Ballynafeigh 2
Belfast South 1 needed a win to avoid last place, and upon the arrival of an under-strength Ballynafeigh 2 team at the Bankers' Club they would certainly have fancied their chances of getting that win. Robert Lavery, playing on board 2 for the visitors due to absences, had other ideas though, beating Ray Devenney in just 23 moves  to give Ballynafeigh 2 a shock lead. On board 5, newcomer Kenny Millen looked like maintaining that lead, reaching a drawish-looking endgame against Graeme McCormick. Millen even went for the win, sacrificing a rook to gain a seemingly dangerous passed pawn, but it was all in vain as McCormick levelled the match. It was Denmark versus the Netherlands on top board as Soren Jensen took on Siebren Westra. Jensen sacrificed material for the initiative early on, but Westra held on for the win to put Belfast South 1 in the lead. Bruce Maclean then sealed the bonus points with a win over Dennis Wilkinson. There was still one more twist, though, as Eoin Carey (1289) sensationally defeated Sam Flanagan (1754). Although the win was on time, the position on the board was winning for Carey.
Division 1 final standings
| | Played | Points |
| --- | --- | --- |
| Fisherwick (Champions) | 22 | 107 |
| Muldoons 1 | 22 | 106.5 |
| Lindores | 22 | 106 |
| Ballynafeigh 1 | 22 | 78.5 |
| Ballynafeigh 2 | 22 | 74.5 |
| Belfast South 1 | 22 | 69 |
| Lagan | 22 | 68.5 |
The one-point gap between first and third must surely be unprecedented in Belfast and District League history. The Silver King has been shared in the past when teams have finished on the same number of points, most recently Malone and Newtownards in 1991-92 - but this author can't find any case where a third team has come so close.
Division 2
Fruithill 1.5-3.5 Belfast South 2
"Kelly's Heroes" were a man short against Fruithill, but it mattered not as they romped to victory against one of the stronger line-ups the home side has put out this season. Frank Carrothers was the only home player to get a result, in the form of a draw against George Jackson.
Bangor 4-1 Fruithill
Champions Bangor ran home easy winners against Fruithill, who fielded a somewhat less formidable team than against Belfast South 2; only Ross Smith could stop the whitewash, beating Bangor newcomer Michael Sheeran.
There were also a number of forfeits - Ballynafeigh 4 vs NICS ended 5-0 to NICS after Mark Hewitt (1172) and Eoin Carey (1289) were played out of order; as per the League rules, the home side forfeited the boards below the two, meaning that Paddy Magee's draw with Adrian Dornford-Smith and Barney McGahan's win over Peter Storey counted for nothing. Bangor failed to show up for their match with Ballynafeigh 3, who were given a 5-0 victory, while Muldoons 2 vs Fruithill was ruled a double forfeit as the match was not played before the deadline.
Division 2 final standings
| | Played | Points |
| --- | --- | --- |
| Bangor (Champions) | 12 (+10) | 86 |
| NICS | 12 (+10) | 68.5 |
| Belfast South 2 | 12 | 52.5 |
| Fruithill | 12 (+10) | 50 |
| Ballynafeigh 3 | 12 (+10) | 35.5 |
| Muldoons 2 | 12 | 29.5 |
| Ballynafeigh 4 | 12 | 28 |