Kasparov's visit to Dublin
As part of his campaign for FIDE President, Garry Kasparov visited Dublin.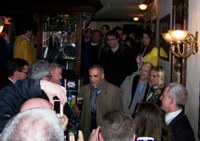 Having received an email inviting me to enjoy the company of Kasparov, I placed the invite on my desk at work and told everyone I was going to see one of the greatest players in chess history.
I travelled down by train with a sense of adventure, reading and enjoying the journey. The meeting place was O'Donoghues Bar, a 20 minute walk through the rain. Arriving early and soaked I sat in the atmospheric bar with a pint of Guinness.
A friendly face arrived in the shape of David McAlister. The bar filled up with chess enthusiasts young, wise and official.
Kasparov arrived, was given a warm welcome and a pint of Guinness. Unfortunately, as he walked down the centre of the bar shaking hands, as he passed us he had his back to us - I was that close I could have tapped him on the shoulder. He was introduced to a player who had played him and actually remembered the game!
Although not meeting the man himself, myself and David enjoyed the atmosphere and the chat.; I met a future science fiction writer, the ICU president, the top Scottish International Arbiter and received a business card from a project manger of Kasparov's Chess Foundation.
I also met Una O'Boyle who organised the Kasparov visit, promotes childrens chess and has published a beautiful book for teaching chess - the first in Irish. The Events for Kasparov's visit included the recognition of youngsters in chess, including Admira Kecskemti our Ulster Under 12 Girls Champion. The ICU press-release. [Unfortunately, at least in part due to his plane being delayed, Kasparov did not attend the childrens' event - Ed.]
The trip was fortuitous as I met Maura Osborne who was organising a team event in Dublin for a visiting Manchester group of students. I was asked to provide a team from Ulster.
I travelled back to Belfast a little disappointed in not actually meeting the great player but happy to have met some of the great people of the Irish Chess Union.