Gawain Jones plays 28 Club players at RBAI wed 14th May.
Ulster Chess players had the excellent opportunity of going head to head with the top Grand Master Gawain Jones. Would any one beat him!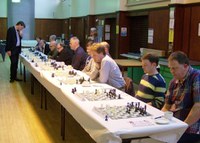 28 players arrived at the Royal Belfast Academical Institution dinning hall excited, full of anticipation. They were about to face one of the top players in the UK and the World - Grand Master Gawain Jones. UK chess champion, recent victor at Bunratty - a chess player at  the top of the game and improving. A player we will keep a careful watch and wish him well in his future career.
Damien Cunningham the organizer setup the room, the sets were put out. Damien with his friendly banter. Players started coming in, the room started to buzz.
'Be seated please' Damien instructed. Gawain entered the hushed room. Introduced by Damien who also explained the rules. and the 28 games began.
Gawain made a wide range of opening moves and shook hands with each player wishing them luck. The games were off. Damien was in trouble early on and followed last years result by being one of the first to loose.
I played my bishop twice and Gawain immediately attacked it with a Queen check followed by an aggressive pawn push on the Queen side. A pawn down I limped on with a fake attack on the Kingside. Which was handled with no problem and Gawain ended with a excellent undefendable attack on my King. I resigned have survived 41 moves.
It was good to see students enjoying the Chess: Andrew Todd (Bangor Grammar) played well Gawain latter complemented his defending skills. Eoin McCorkindale (Ballymena Academy) and Joel Dawson (Friends School) enjoyed the evening.
We all slowly fell. Filling in the "I survived .... moves" certificates. Two players survived to get drawers David Houston and Alan Thompson.
Gawain signed peoples certificates and discussed games. He explained to new player, Gerard Bannon who lost that there was a drawn position at one stage in the game.
President Geoff Hindley thanked Damien and led the thanks to Gawain for such an excellent event.
Our thanks go to Damien Cunningham for organizing this excellent event. An entertaining story of the event and more photos can be found at the Ballynafiegh webpage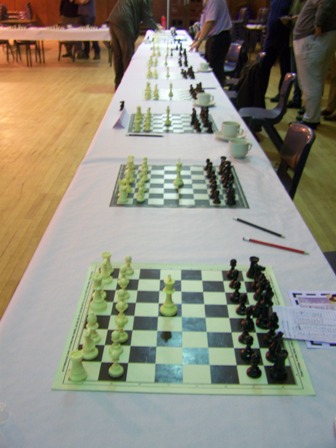 The White Kings show the wins for Gawain and our losses - well beaten - Thanks to GM Gawain Jones.