NICS at Belfast South
On only their second outing, NICS trekked to Belfast South and nearly caused a major upset. Building on their performance from the previous week, NICS piled on the pressure.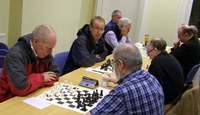 Belfast South vs NICS
On paper, Belfast South were the stronger team - by a long chalk. With home-team advantage and a promising result the previous week, Belfast South were formidable opposition. For NICS, their performance last week showed they have potential - but perhaps that was just a flash-in-the-pan.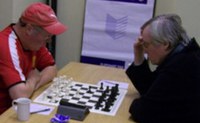 Top board Mark Newman played a tight game to hold Ray Devenney to a draw; this augered well for the visitors. David McAlister was outgunned by Sam Flannagan on board 2 but on board 3 a stellar result from Alan Burns against John McKenna evened the match.
This left the bottom boards to fight it out. NICS were seriously outrated giving up 300 to 400 points on each board.
Boards 6 & 7: John Bryans vs Adrian Donford Smith and Martin Kelly vs Pete Storey fell for the home team.
On board 4 David Ruben mixed up tactical move order and dropped a piece but Drew Ferguson blundered a piece back to balance the material. The game could h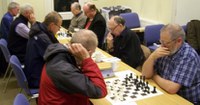 ave gone either way but by accident or design both players agreed a draw when black's king got into bother on the a-file. The league result was still drawn.
Everything depended on the final board between Neil Green and Geoff Hindley and Geoff seemed to be in front with a strong position and time advantage. But the position was complicated and Neil did not let up; gradually he countered Geoff's position and both player's now had opportunities to win. Neil was whittling down time difference too and it was Geoff's flag that fell first to give Neil the game and Belfast South the match.
A very promising result from the NICS team against a strong Belfast South squad. Like a lot of teams at the moment, nearly getting there to get a good win.
Devenney, Ray =-= Newman, Mark
Flanagan, Sam 1-0 McAlister, David
McKenna, John 0-1 Burns, Alan
Ruben, David =-= Ferguson, Drew
Green, Neil 1-0 Hindley, Geoff
Bryars, John 1-0 Dornford-Smith, Adrian
Kelly, Martin 1-0 Storey, Peter
Final scores available in the results service