Sad news - Eddie Whiteside passed away
After a short illness, Eddie Whiteside has passed away. Funeral arrangements have now been announced.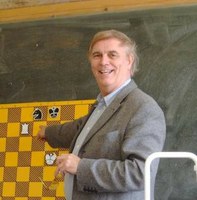 Enjoying some coaching
Eddie Whiteside passed away on Saturday 9th March 2013. All his family were with him. A great loss; a great loss to Ulster Chess. Eddie loved the game of chess. He won the Ulster Chess Championship in 1963, 1973 and 1976. In recent years he played for Bangor chess club.
He made friends with everyone he met. You couldn't help appreciate knowing such a fantastic/lovely man. Smiling, helpful, a brilliant chess teacher, who took time to discuss your game and how to improve it.
He made many friends in chess and all our thoughts go out to his family.
Funeral arrangements have now been announced:
Service at Clandeboye Lodge Hotel Tuesday 12th March 2013 at 10.00 am
After the service, the coffin will travel to Movilla Cemetery
ALL are invited back to Clandeboye Lodge Hotel for refreshments