Aprils Childrens Chess
Top players attended the April Childrens Chess at Methodist College. We had Candidate Master Karina Kruk (Current Irish Womans Champion), Gavin Melaugh from Derry (Previous Irish under 8 Champion).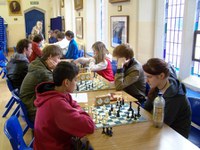 Children enthusiastic about the game of chess came together at Methodist College to play in the monthly tournaments organised jointly by the Ulster Schools Chess Council and Ulster Chess Union. These are coming to an end for this Academic year. The final event being Mega-Final on 11th May. Followed by the 3 day chess summer school in August.
Its brilliant to see so many youngsters enjoying the game of chess. We welcome anyone to play. - watch this site for next years timetable of events.
The primary players were put the question could they beat the excellent player Gavin Melaugh. The answer no. Gavin won all his games scoring a well deserved 5 out of 5.
Gavin playing Dayna. With some problem solving going on in the background.
P5 Winner Gavin Melaugh, 2nd Daniel Ferguson, 3rd Dayna Ferguson
P6 Winner Lucia Corrigan, 2nd Honor Parissis, 3rd Charlotte Blair
P7 Winner Jonathan Beasant
Place Name              Year Score

  1   Gavin Melaugh     P5    5    
 2-3  Lucia Corrigan    P6    3.5  
      Daniel Ferguson   P2    3.5  
 4-6  Dayna Ferguson    P3    3    
      Honor Parissis    P6    3    
      Calvin Patterson  P1    3    
 7-9  Admira Kecskemeti P2    2    
      Pheobe Patterson  P3    2    
      Jonathan Beasant  P7    2    
 10   Seamus Douglas    P3    1.5  
 11   Charlotte Blair   P6    1    
 12   Mani Douglas      P4    0.5  

by Swiss Perfect (TM)  www.swissperfect.com
With so many brilliant players in the secondary section it is difficult to predict the eventual resulting order. Eibha has taken the Lower Section by storm. Whilst the top section has been a fight-off between Kevin, Karina, Thomas, Matthew and Kiran.
Form 1 Winner Eibha Ni Mhuireagan, 2nd Eoghan Turkington
Form 2 Winner Marcus McEneaney, 2nd Joel Dawson
Form 3 Winner Jake Patterson
Form 4 and above Winner Kevin Robbin, 2nd Karina Kruk, 3rd Thomas Donaldson and Matthew Chapman
Place Name                 Feder Score

  1   Kevin Robbin         F4    5    
  2   Karina Kruk          U6    4.5  
 3-4  Thomas Donaldson     F5    4    
      Matthew Chapman      L6    4    
 5-6  Jake Patterson       F3    3.5  
      Eibha Ni Mhuireagian F1    3.5  
  7   Adam Henning         L6    3    
  8   Marcus McEneaney     F2    2.5  
9-11  Joel Dawson          F2    2    
      Finlay Kelly         F3    2    
      Eoghan Turkington    F1    2    
Primary Puzzle Winners
Gold Certificate:
| | |
| --- | --- |
| Kecskameti, Admira | |
| Honor Parissis | |
Silver Certificate:
| | |
| --- | --- |
| Dayna Ferguson | |
| Lucia Corrigan | |
| Daniel Ferguson | |
| Mani Douglas | |
| Calvin Patterson | |
Bronze Certificate:
| | |
| --- | --- |
| Seamus Douglas | |
| Charlotte Blair | |
| Gavin Melaugh | |
| Jonathan Beasant | |
| Pheobe Patterson | |
Secondary Puzzle Winners
Gold Certificate:
| | |
| --- | --- |
| Thomas Donaldson | |
| Kevin Robbin | |
Silver Certificate:
| | |
| --- | --- |
| Eibha Ni Mhuireagian | |
| Joel Dawson | |