Autumn Lists Published
The autumn ratings lists have been published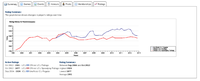 Graphic Member Rating History
The latest Standard and Rapidplay rating lists have been published in readiness for the new season. This publication incorporates a July issue as well.
Registered members can view their latest ratings in the membership section of the Union's main website.
Much improved members' pages are now in place as the website system has been upgraded. It will take some time for the Web Editors to catch-up with the new features but the immediate benefit for members is the simpler navigation in the Results Service and more detailed player rating histories with graphs showing changes over time.