League Prizes and new President
The UCU AGM held on July 16th included the presentation of the Silver King to Fisherwick club, the Tom Clarke trophy to Steven Eachus and the election of a new UCU President, Geoff Hindley.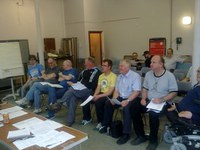 This years AGM was held at Ballynafiegh Community House on 16th July. The meeting started with a welcome from the President Chris Kelly. Who thanked the current committee for an excellent year that included Nigel Shorts simultaneous display, Chess at the Cafe (part of Belfast Culture Festival), Childrens Chess award ceremony at Stormont hosted by MLA Kieran McCarthy, Karina Kruk representing Ireland at three international tournaments.
Following minutes of last years AGM, the financial report where Damien Lavery explained the figures were better on previous years, the decision to raise the members fees last year was good, this year we didnt need to raise them. We still need to be vigilant on the cost of rooms etc. We had the awarding of the league prizes.
Fisherwick Club won the much prized Silver King, Collected by team members John Bradley, John Cairns, Sam Flanagan.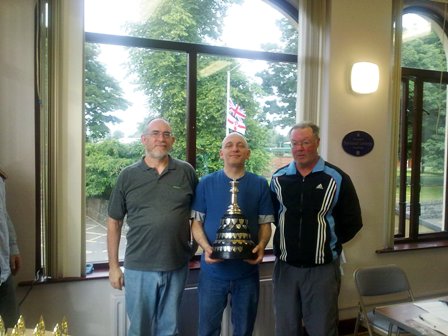 Mallusk Won the Divison 2 John Strawbridge Cup. Collected by Drew Ferguson, Peter Wilson, Nicholas Pilkiewicz.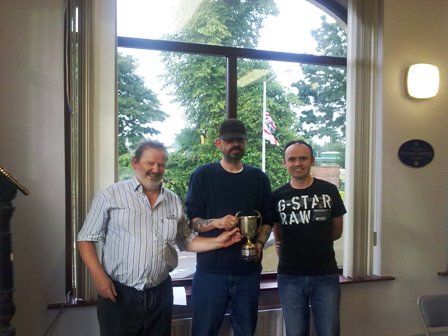 Board prizes were collected by
Division 1 Board 2 : John Cairns (Fisherwick).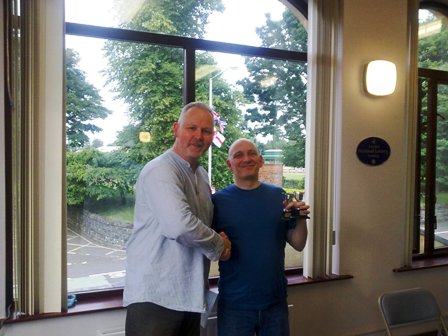 Divison 1 Board 4 : Sam Flanagan (Fisherwick)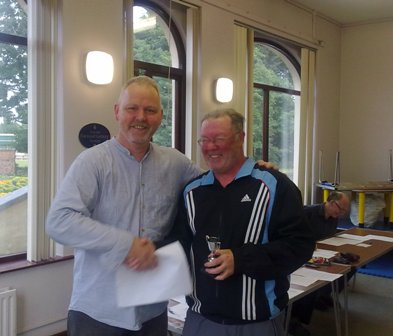 Divison 2 Board 2 : Nicolas Pilkiewicz (Mullusk)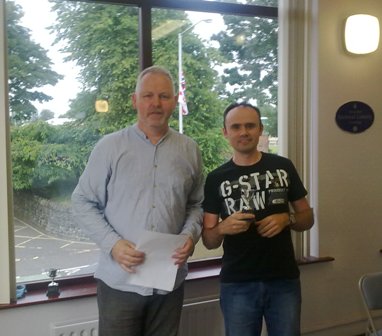 Division 2 Board 5 : Drew Ferguson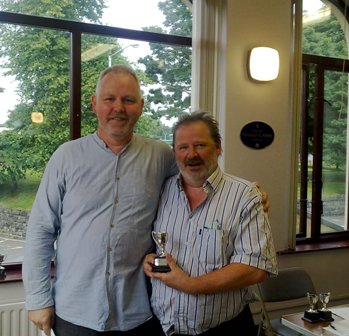 Tom Clarke Trophy - using Grand-Prix system across the years tournaments: Winner Steven Eachus (Mallusk) - collected on his behalf by Drew Ferguson.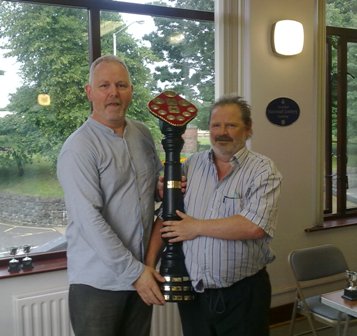 The re-elected treasurer Damien Lavery, Chris Kelly the out-going President stood down due to external commitments, the new President Geoff Hindley.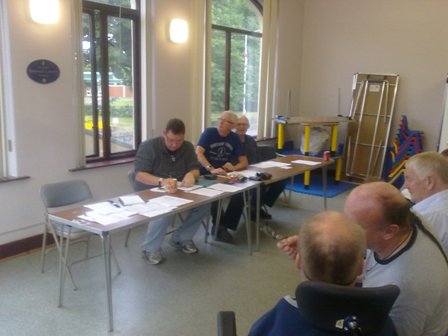 The full minutes will be published at a latter date. The new committee is listed below.
President:Geoff Hindley
Secretary: Mark Newman
Treasurer: Damien Lavery
League Controller: Damien Cunningham
Tournament Director: Damien Cunningham
Event Organiser: Geoff Hindley
WebMaster: Drew Ferguson
Web Editor: Adrian Dornford-Smith
Ratings Officer: Drew Ferguson
Trophies Office: Geoff Hindley
Schools Development: Mark Newman
Board members are President, Secretary, Treasurer.
Elected Executive Board Members :
Brendan Jamison, Adrian Dornford-Smith, Damien Cunningham.
Thanks to all 21 members for attending the meeting.
and again thanks to Chris Kelly, Damien Lavery, Damien Cunningham, Geoff Hindley, Mark Newman, Gerald Harvey, Drew Ferguson for organising chess in Northern Ireland for the year 2012-2013.
Sadly we lost a much loved friend Edward Whiteside, always fun to play and willing to take time to explain the game, a brilliant coach, passed away during the year - a moments silence was held.
and to all players for their fairness and enthusiasm..may all your pawns queen.