The Summer tournament. 2 Match playing weeks left then prize-giving.
Only two weeks of play left. How do the players stand. The three section leaders all have the potential to win the whole tournament. Top Section leader: Pat Colemen 77.78% Middle Section leader: Matthew Chapman 80% Lower Section leader: David Seaby 71.88%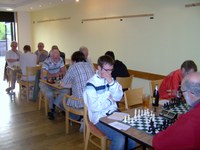 Players Enjoying Chess at the Civil Service Social Club
We have 2 full weeks left of play followed by the prize giving.
The leaders of the sections: Pat Colemen, Matthew Chapman and David Seaby (who led the tournament for several weeks) are all potential winners.
Pat Coleman is the top section leader at 77.78% and if he fulfills the 10 games needed is impossible to catch.
Matthew Chapman on 80% is closely chased by Cahal Murphy 77.8% who could catch him.
Whilst in the lower section David Seaby 71.88% who for several weeks was leading the whole tournament is chased by Ashley McWhiney on 60%.
Many thanks to all the players and to the wonderful venue - Civil Service Social Club.
Full score details at Summer Tournament 2012.
| | | | | |
| --- | --- | --- | --- | --- |
| name | Rating | Played | Points | % |
| Pat Coleman | 1563 | 9 | 7 | 77.78 |
| Sam Flanagan | 1706 | 12 | 7 | 58.33 |
| Christopher Kelly | 1580 | 8 | 4.5 | 56.25 |
| Karina Kruk | 1535 | 8 | 4.5 | 56.25 |
| Mark Newman | 1781 | 9 | 5 | 55.56 |
| Bernard Jaffa | 1488 | 8 | 4 | 50.00 |
| Ray Devenney | 1828 | 8 | 4 | 50.00 |
| Edward Whiteside | 1788 | 13 | 6.5 | 50.00 |
| Stewart McConaghy | 1440 | 12 | 6 | 50.00 |
| David Ruben | 1617 | 16 | 8 | 50.00 |
| Walter Wilson | 1465 | 13 | 6 | 46.15 |
| Ross Harris | 1554 | 11 | 5 | 45.45 |
| John Bryars | 1485 | 10 | 4.5 | 45.00 |
| Ian Woodfield | 1689 | 13 | 5 | 38.46 |
| Neil Green | 1554 | 13 | 4.5 | 34.62 |
| | | | | |
| Mathew Chapman | 1345 | 10 | 8 | 80.00 |
| CJ Murphy | 1270 | 9 | 7 | 77.78 |
| Peter Wilson | 1360 | 3 | 2 | 66.67 |
| Alan Burns | 1300 | 14 | 9 | 64.29 |
| Garry Johnston | 1167 | 17 | 10.5 | 61.76 |
| Robert Lavery | 1349 | 15 | 9 | 60.00 |
| William Storey | 1329 | 12 | 7 | 58.33 |
| Drew Ferguson | 1239 | 1 | 0.5 | 50.00 |
| Martin Kelly | 1382 | 8 | 3.5 | 43.75 |
| Kevin Agnew | 1266 | 14 | 6 | 42.86 |
| Derek Trusdale | 1263 | 12 | 5 | 41.67 |
| Ron Henderson | 1354 | 8 | 3 | 37.50 |
| Chris Armstrong | 1365 | 13 | 4.5 | 34.62 |
| Roy Stafford | 1244 | 15 | 4.5 | 30.00 |
| B Belshaw | 1236 | 13 | 3.5 | 26.92 |
| | | | | |
| David Seaby | 1086 | 16 | 11.5 | 71.88 |
| A McWhinney | 921 | 10 | 6 | 60.00 |
| James Fairley | 923 | 14 | 7.5 | 53.57 |
| Owen Wilson | 967 | 3 | 1.5 | 50.00 |
| Patrick Maguire | 858 | 1 | 0.5 | 50.00 |
| Geoff Hindley | 974 | 13 | 6.5 | 50.00 |
| Adrian Dornford-Smith | | 15 | 6.5 | 43.33 |
| Craig Kelly | 826 | 16 | 5.5 | 34.38 |
| Paul Anderson | 671 | 8 | 1.5 | 18.75 |
| Philip Morrison | 1025 | 1 | 0 | 0.00 |
| Rees McLane | | 1 | | 0.00 |