Kelly's Heroes keep Strawbridge hopes alive with big win over leaders
(B&D League 2015/16 Week 13) In recent weeks Ballynafeigh have been fielding some of their stronger second team players in their first team in the hopes of making up ground in Division 1, but this week they were left with a weakened squad for their second team which suffered a heavy defeat to Kelly's Heroes, leaving them with work to do to claim the John Strawbridge Cup.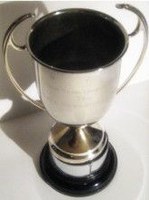 Going down to the wire?
Division 1
Ballynafeigh 1 4-1 CS Lewis Lions

Muldoons 1 4-1 QUB 1

Bangor Groomsport 2.5-2.5 The A Team
There was a Belfast and District League first on Tuesday night  as the Ballynafeigh 1 vs CS Lewis Lions match was broadcast on the internet via the UCU's live boards. The home side were without David Houston but nevertheless eased to victory over the Lions. Leaders Muldoons 1 maintained their eight-point cushion as they defeated QUB 1 4-1, all but knocking the students out of contention in the Silver King race. The A Team's challenge also appears to be over as they were held to a draw by Bangor Groomsport, the highlight of which was an excellent win for Michael Sheerin (1400) against Sam Flanagan (1851).
Division 2
NI Civil Service 3-2 Muldoons 2

CS Lewis Witches 1.5-3.5 Fruithill

Kelly's Heroes 4-1 Ballynafeigh 2
Kelly's Heroes are right back in the hunt for the John Strawbridge Cup after a big win over leaders Ballynafeigh 2. Damien Cunningham and Mikhail Pavlov were in action for Ballynafeigh 1 against the CS Lewis Lions, leaving Ballynafeigh 2 with a weaker than usual panel to choose from. Chris Kelly and Robert Lavery met expectations in drawing against Graeme McCormick and David Ruben respectively on the top two boards - unfortunately for the visitors, so did Barney McGahan (called up from Ballynafeigh 3) in his board 5 defeat to William Storey. Boards 3 and 4 were evenly matched on paper, but in both cases the home side prevailed. The result cuts the gap between the two sides to just 3.5 points. As for the battle to avoid relegation, NICS defeated Muldoons 2 and Fruithill defeated the CS Lewis Witches.
Division 3
QUB 3 4-1 Ballynafeigh 4

Bangor Wannabees 0-5 QUB 2
It was a good week for QUB's Division 3 teams; QUB 3 lifted themselves off the bottom by beating Ballynafeigh 4, and QUB 2 kept them off the bottom by whitewashing the Bangor Wannabees, all but securing promotion in the process. The scheduled match between Andrew's Army and Ballynafeigh 3 was postponed.
Standings
| Division 1 | Played | Points | Division 2 | Played | Points | Division 3 | Played | Points |
| --- | --- | --- | --- | --- | --- | --- | --- | --- |
| Muldoons 1 | 13 | 58.5 | Ballynafeigh 2 | 13 | 65.5 | QUB 2 | 13 | 78 |
| Ballynafeigh 1 | 12 | 50.5 | Kelly's Heroes | 13 | 62 | Andrew's Army | 12 | 63 |
| The A Team | 13 | 47.5 | Fruithill | 13 | 45 | Ballynafeigh 3 | 12 | 47 |
| QUB 1 | 12 | 45.5 | NI Civil Service | 13 | 37 | Ballynafeigh 4 | 13 | 31.5 |
| CS Lewis Lions | 13 | 45.5 | CS Lewis Witches | 13 | 33 | QUB 3 | 13 | 24 |
| Bangor Groomsport | 13 | 18.5 | Muldoons 2 | 13 | 30.5 | Bangor Wannabees | 13 | 22.5 |