Ballynafeigh 1 put Silver King rivals on notice
(B&D League 2015/16 Week 10) Despite a disastrous start to the season, Ballynafeigh 1 have muscled their way into the title chase and after their latest victory over Muldoons 1 their defence of the Silver King is very much alive with one third of the season still to play. Meanwhile, their second team pull away in Division 2 and a shock win for their fourth team could have profound implications in Division 3.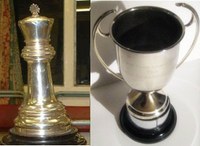 Division 1
Ballynafeigh 1 4-1 Muldoons 1

CS Lewis Lions 2-3 The A Team
If there was any doubt as to the credibility of Ballynafeigh 1's title defence, it was swiftly removed on Tuesday night as they swept aside leaders Muldoons 1. When Stephen Wood won a piece in his game against John O'Doherty, things appeared to be going to plan for the visitors, slowly but surely, however, the remaining boards were turning in the home side's favour. Nicholas Pilkiewicz appeared to have a comfortable game against Steve Scannell, but the eight-time Ulster champion found a way to nibble away at Pilkiewicz and eventually come out on top. Des Moreland found himself in time pressure against Brendan Jamison and blundered, allowing Jamison to put the home side ahead. David Houston then sealed the match against Danny Mallaghan, but the best was yet to come for the home side; in a rematch from round 1 of the previous weekend's Williamson Shield, Robert Lavery (1587) faced Gareth Annesley (1870). Annesley had beaten Lavery without too much trouble at the weekend and gone on to win his third Williamson in absolutely dominant fashion, finishing two clear points ahead of second place. This time, however, Lavery matched Annesley blow-for-blow and the players arrived at an ending with king, knight and six pawns each. Lavery soon won a pawn, leading Annesley to sacrifice his knight in an attempt to force through his kingside pawns. This proved to be in vain, as Lavery's king quickly arrived on the scene to stop the connected passed pawns, forcing Annesley's resignation and drawing a round of applause from the onlookers. The new leaders are the CS Lewis Lions, despite their 3-2 defeat against The A Team.
The match between QUB 1 and Bangor Groomsport was postponed.
Division 2
Fruithill 3-2 NI Civil Service

Muldoons 2 0-5 Ballynafeigh 2

CS Lewis Witches 2.5-2.5 Kelly's Heroes
Ballynafeigh 2 tightened their grip on Division 2 by crushing Muldoons 2. They had a new recruit in the form of Williamson Shield challengers section winner Mikhail Pavlov, who defeated Martin Donaghy on board 2. Fruithill narrowly defeated NICS, while Kelly's Heroes are eight points behind after being held to a draw by the CS Lewis Witches.
Division 3
Ballynafeigh 4 4-1 Andrew's Army
Andrew's Army blew their chance to overtake QUB 2 with a shock defeat to Ballynafeigh 4. Dmitry Zelenchuk defated Josh Geary (neither player has an official rating, but they are provisionally estimated at 1050 and 1300 respectively), Daniil Zelenchuk (provisionally 850) defeated Andrew Todd (1305), and in what must be a contender for upset of the season, Paul Charles (whose career league record going into this match was a paltry 3.5/21) defeated Gary Johnston (1243).
The other two scheduled matches (Ballynafeigh 3 vs QUB 2 and QUB 3 vs Bangor Wannabees) were both postponed.
Standings
| Division 1 | Played | Points | Division 2 | Played | Points | Division 3 | Played | Points |
| --- | --- | --- | --- | --- | --- | --- | --- | --- |
| CS Lewis Lions | 10 | 41 | Ballynafeigh 2 | 10 | 52.5 | QUB 2 | 9 | 51.5 |
| Muldoons 1 | 10 | 40 | Kelly's Heroes | 10 | 44.5 | Andrew's Army | 10 | 49.5 |
| The A Team | 10 | 37 | Fruithill | 9 | 32 | Ballynafeigh 3 | 9 | 37.5 |
| Ballynafeigh 1 | 9 | 32.5 | Muldoons 2 | 10 | 26 | Ballynafeigh 4 | 10 | 28 |
| QUB 1 | 8 | 31 | CS Lewis Witches | 10 | 25 | Bangor Wannabees | 9 | 19 |
| Bangor Groomsport | 9 | 14.5 | NI Civil Service | 9 | 23 | QUB 3 | 9 | 10.5 |