Lions roar back into contention
An already-interesting battle for the Silver King got that much more exciting as Muldoons 1 suffered their first defeat of the season against the CS Lewis Lions. In Division 2, Ballynafeigh 2 and Kelly's Heroes are pulling away from the field.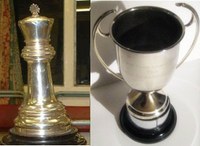 Division 1
Muldoons 1 2-3 CS Lewis Lions

Ballynafeigh 1 3-2 Bangor Groomsport

QUB 1 2.5-2.5 The A Team
After a poor start to the season, the CS Lewis Lions are just 2.5 points off the lead as they beat Muldoons 1 3-2. QUB 1 had a chance to unseat the Corporation Square side as leaders the next night, but could only manage a draw against The A Team, although that was enough for them to sneak back into second place. Lightning almost struck twice for Bangor Groomsport as they appeared to be in with a shout at defeating champions Ballynafeigh 1 again, despite being out-rated by over 300 points per board; however, the hosts just about managed to avert another major upset.
Division 2
Fruithill 1.5-3.5 Ballynafeigh 2

Kelly's Heroes 3-2 Muldoons 2

CS Lewis Witches 1.5-3.5 NI Civil Service
The top two sides in Division 2 both won to extend their lead over the competition. Ballynafeigh 2 emerge a point ahead as they saw off Fruithill 3.5-1.5 while Kelly's Heroes won 3-2 against Muldoons 2 (a match which saw the upset of the week as Muldoons 2's Paddy Magee (1150) defeated William Storey (1366)). Finally, NICS defeated the CS Lewis Witches.
Division 3
Ballynafeigh 4 2-3 Ballynafeigh 3

QUB 3 1-4 QUB 2

Bangor Wannabees 1-4 Andrew's Army
There were no surprises in Division 3 as each club's higher team defeated their respective lower teams.
Standings
| Division 1 | Played | Points | Division 2 | Played | Points | Division 3 | Played | Points |
| --- | --- | --- | --- | --- | --- | --- | --- | --- |
| Muldoons 1 | 6 | 26.5 | Ballynafeigh 2 | 6 | 28.5 | QUB 2 | 6 | 36.5 |
| QUB 1 | 6 | 24.5 | Kelly's Heroes | 6 | 27.5 | Andrew's Army | 6 | 32.5 |
| CS Lewis Lions | 6 | 24 | CS Lewis Witches | 6 | 18 | Ballynafeigh 3 | 6 | 24 |
| The A Team | 6 | 22.5 | NI Civil Service | 5 | 16.5 | Ballynafeigh 4 | 6 | 13.5 |
| Ballynafeigh 1 | 6 | 17 | Fruithill | 5 | 14.5 | Bangor Wannabees | 6 | 12.5 |
| Bangor Groomsport | 6 | 11.5 | Muldoons 2 | 6 | 14 | QUB 3 | 6 | 7 |