Nemtzov Shock as Rush's Hour is Realised
Stephen Rush of Qub lands the spoils in the Nemtzov Cup and John McKenna finally lands the evasive Henderson Cup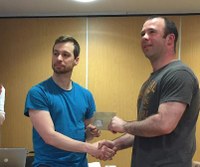 The City of Belfast Championships took place in the final weekend of May amongst some glorious sunshine in the fabulous Stormont Pavilion.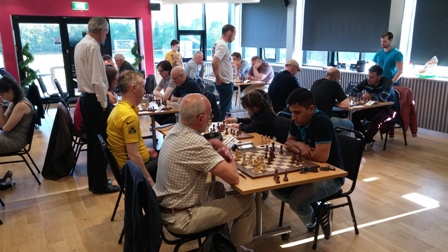 A total of 31 participants enjoyed the weekend of sunshine and chess with the Nemtzov Cup boasting the strongest field of the season in terms of playing strength as Manuel Cabanas Jimenez (2140) travelled up from Westport to be the Nemtzov "man to beat." Steve Scannell, Gareth Annesley and Nick Pilkiewicz also were in attendance to put forward their claims for the coveted cup.
John McKenna was the top seed and overwhelming favourite in the Henderson Cup after a fine season and after a few near misses was hopeful of finally securing Henderson glory. Pat McKillen, on the other hand is no stranger to Henderson glory having won it 3 times and was looking for the remarkable achievement of 3 in a row. Dayna Ferguson was also a strong contender following a fine run of results down south and also made the relatively long trip.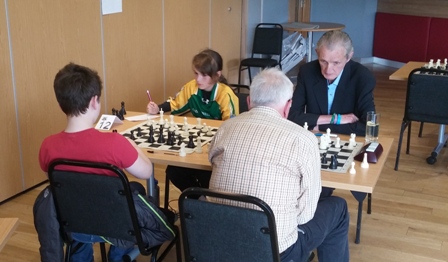 Round 1 saw no major upsets in the Nemtzov except Nick Pilkiewicz being held to a draw by a recent nemesis in Mikhail Pavlov. The all American and the all Steve clash on board 2 ended in a very even and long hard-fought draw and the tournament had the early makings of a very tight one.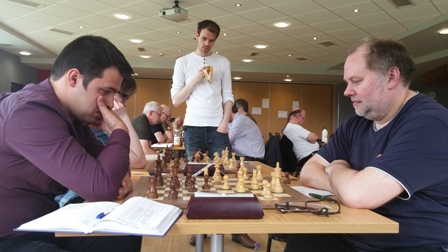 However, the same can't be said in the Henderson as a fine piece sac from Geofd Hindley put damage to McKillen's hat-trick chances, whilst Paul Anderson recovered from a piece down to storm his pawns into the queenside of Cathal Murphy to devastating effect, whilst Murphy's extra piece was restricted to spectator duties. Mary McCabe a tournament debutant and complete newomer to chess in recent weeks earned a very creditable draw against her experienced opponent in Roy Stafford.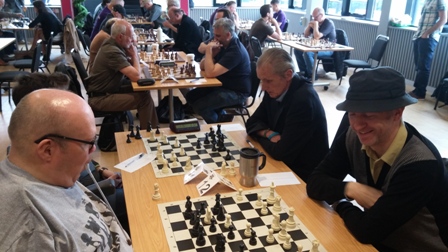 Round 2 in the Henderson saw McKenna, McConaghy and Rajan all acquire comfortable victories to move to 2/2. Dayna Ferguson made her debut after a bye in the first round and showed impressive strategical depth and knowledge to grind her fellow young counterpart Daniil Zelenchuk into the dirt.
No such 100% scores after 2 rounds in the Nemtzov as a Spanish Inquisition was launched into the quick draw between best friends Sergio Esteve Sanchez and Manuel Cabanas Jimenez. Annesley and Mallaghan also had a lifeless draw while Stephen Rush continued his very fine start by grinding down Nick Pilkiewicz. Steve Scannell also joined on 1.5 with a comfortable victory over Damien Cunningham, whose pieces couldn't have been any worse deployed against the Ulster tournament legend.
The first heavyweight clash occurred in round 3 when Annesley faced off against Scannell, unfortunately it proved to be another timid draw where not much happened between two players who know each other well. Jimenez had Mallaghan in trouble in the opening and his foot never deteriorated from the accelerator as Mallaghan was left lambasting a risky pawn sac in the opening. Stephen Rush continued his remarkable start by joining Jimenez on 2.5 with a long, hard-fought dispatching of clubmate Sanchez.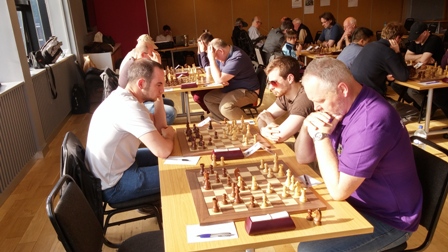 The Henderson was proving to be just as tight after 3 draws on the top 3 boards. McKenna and Rajan had a quick draw after a perpetual was conceded. McConaghy and Ferguson had quite the opposite, a marathon match-up which was played to a Knight each. Both showed very good composure and accuracy throughout and it was the game of the tournament so far with multiple pawn swings and calculations to consider. Ferguson again showing maturity well beyond her years which positively baffled McConaghy in discussions after the game.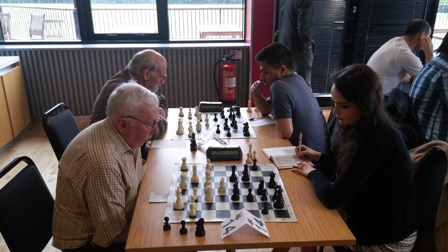 Day two saw the Race of Life being held at Stormont, a fitting co-inciding event as many chess players can empathise with the stamina concerns on Stormont that day. Particularly when the board 1 clash in the Henderson was between Martin Kelly and John McKenna. The latter did dominate however and made his telling material advantage count to take the outright lead. Rajan and Ferguson had a very hard-fought draw taking Rajan to 3 with McConaghy who had his customary Sunday morning travelling bye. Joining Ferguson on 2.5 were Dmitry Zelenchuk and defending champion McKillen who were still within striking distance if McKenna were to let up.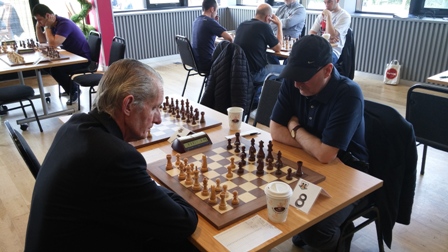 Pilkiewicz's plights continued in the Nemtzov with defeat to Damien Cunningham who moved to 2.5. Steve Scannell joined him there despite failing to beat Sanchez when he lost initiative at a critical time. Annesley saw off Mark Newman in a long struggle to end his chances and put himself into firm contention on 3. The top board saw the leaders Jimenez and Rush play out a fascinating draw in the tournaments undoubted highest quality game. Rush overlooked his hold of the c4 square with the white pieces in a Grunfeld and faced mounting pressure. A resourceful Nf4 move released the pressure and forced an exchange. Jimenez then overlooked a deep combo which lost a piece, but found a brilliant Na6 move to consequently penetrate Rush's muddled backrank of pieces to force a perpetual.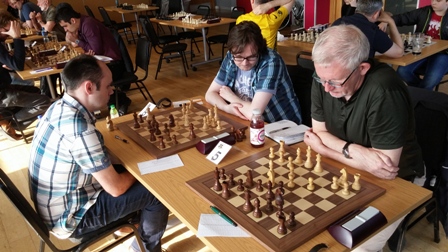 The penultimate round of the Nemtzov saw Sanchez win a titanic struggle against to Cunningham who battled bravely to take Sanchez to the lead on 4. Annesley held a 2 pawn cushion vs Rush but his dwindling time trouble forced inaccuracies and once again Rush showed fine resolve to extend his unbeaten run and move to 3.5 along with Annesley. In the Nemtzov's most exciting game, Brendan Jamison sacced an exchange early to attack Scannell's kingside. With a hasty placed Queen walking into a discovered attack, Jamison's pieces were flooding round Scannell's king and it looked that Jamison was on the verge of a big upset. Scannell, being the resourceful player he is, found a way to take the sting out and increase his material advantage and shortly after end the game, much to the dismay of the audience!
John McKenna all but guaranteed himself the Henderson with a dominating win over a fresh McConaghy, once again demonstrating clinical strategical play. Rajan's chances ended with defeat to the battling defending champion McKillen, whilst Ferguson beat Roy Stafford to keep herself in with a shout until the very end on 3.5 with McKillen, a full point behind McKenna.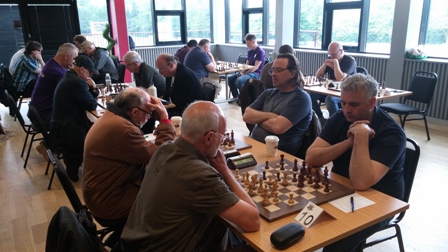 In the final round, McKenna was paired with McKillen and using all his experience, was able to steer the game into a lifeless draw from the outset. Ferguson had her 3rd consecutive draw with Cathal Murphy to boast an impressive unbeaten 4 and finish 2nd overall on tiebreak. McKillen's brave defence landed him on 4 with Swiss Tournament veteran and expert Martin Kelly, who found himself in the prizes once again!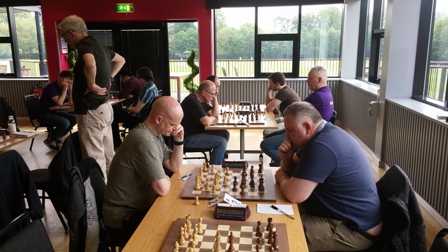 The final round of the Nemtzov presented the dream pairing of Scannell having to win with white vs Jimenez. Rush was paired with black against Mallaghan and Annesley was paired against Sanchez with black also. Rush landed the clubhouse lead with a smooth win over Mallaghan giving him an unbeaten 4.5 points tally , impressively and notably acquired against the top 6 seeds. This fact, and tiebreak score was the reason why Sanchez was forced to win against Scannell with Annesley now forced to play for minor honours. Annesley, despite being a pawn up made a misjudgment and found himself victim to a mean attack from Sanchez ending his hopes on a low note, whilst Scannell desperately trying to win, was unable to break any resistance from Sanchez and was forced to agree to an obviously drawn position, despite holding a small edge all game. This meant Rush wins on tiebreak and with his performances it was undoubtedly a deserved honour. Scannell picked up 3rd with a good performance himself. An incredibly close and fun tournament.
Stephen Rush, over 1600 Champion, winner of the Nemtzov Cup at the City of Belfast Championships

John McKenna, Under 1600 Champion, winner of the Henderson Cup at the City of Belfast Championship

Manuel Cabanas Jiminez, 2nd Place in the Nemtzov Cup at the City of Belfast Championships

Dayna Ferguson, 2nd Place in the Henderson Cup at the City of Belfast Championships

Steve Scannell, 3rd Place in the Nemtzov Cup at the City of Belfast Championships

Martin Kelly, Joint 3rd in the Henderson Cup at the City of Belfast Championships

 

Brendan Jamison, under 1750 Grading Prize in the Nemtzov Cup

at the City of Belfast Championships

 

Pat McKillen, Joint 3rd in the Henderson Cup at the City of Belfast Championships

Geoff Hindley, winner of the Best Game Prize at the City of Belfast Championships

 

Daniil Zelenchuk, Under 1200 Grading Prize in the Henderson Cup

at the City of Belfast Championships

 

The Eddie Whiteside Library - Geoff Hindley returning a book and borrowing a book and DVD.