All to play for at the mid-season break
(B&D League Week 8) QUB 1's stunning win over Muldoons 1 means that the teams are bunched even more tightly together in Division 1 as the league enters the Christmas break. Meanwhile in Division 2, Ballynafeigh 2 extend their lead with a crucial win against Kelly's Heroes.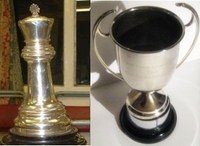 Division 1
QUB 1 3-2 Muldoons 1

CS Lewis Lions 2.5-2.5 Ballynafeigh 1

The A Team 4.5-0.5 Bangor Groomsport
Division 1 leaders Muldoons 1 saw their lead cut to one point as they were sensationally beaten by 250-point-per-board underdogs QUB 1 on Tuesday night. Callum Ormerod (1682) defeated Gareth Annesley (1927) and in the upset of the week, Milad Foozoni (1419) took the scalp of Danny Mallaghan (1783). There were also draws for Samuel Ngieng (1552) against Stephen Wood (1722) and Bernard McCaughey (1425) against Des Moreland (1675). The CS Lewis Lions had an opportunity to overtake them but couldn't capitalise against a resilient Ballynafeigh 1 side, who themselves are only 7.5 points off the lead despite being in fifth place with more than half the season gone. Finally, an easy win for The A Team takes them to within four points.
Division 2
Muldoons 2 3-2 NI Civil Service

Ballynafeigh 2 3.5-1.5 Kelly's Heroes

Fruithill 4-1 CS Lewis Witches
Muldoons 2 are off the foot of the Division 2 table after beating NICS. The Ballynafeigh 2 vs Kelly's Heroes encounter had more on the line than just top spot in the division; in a post on the Ballynafeigh website several days before the match, a commenter known only as "soft fluffy pawn" confidently predicted victory for Kelly's Heroes on the night and for the John Strawbridge Cup to remain at the Bankers' Club. This, however, served only to anger Ballynafeigh 2 - and you wouldn't like Ballynafeigh 2 when they're angry. They put Kelly's Heroes to the sword to go five points ahead at the Christmas break. The defeated side, meanwhile, may soon have to watch out for Fruithill behind them - they beat the CS Lewis Witches 4-1 to go within nine points of Kelly's Heroes with a match in hand.
Division 3
QUB 2 4-1 Bangor Wannabees

Ballynafeigh 3 1-4 Andrew's Army

Ballynafeigh 4 3-2 QUB 3
Leaders QUB 2 defeated the Bangor Wannabees 4-1, while Andrew's Army kept the pressure on with a win over Ballynafeigh 3 by the same scoreline, remaining three points off the lead. Finally, Ballynafeigh 4 beat bottom side QUB 3.
Standings
| Division 1 | Played | Points | Division 2 | Played | Points | Division 3 | Played | Points |
| --- | --- | --- | --- | --- | --- | --- | --- | --- |
| Muldoons 1 | 8 | 34 | Ballynafeigh 2 | 8 | 40 | QUB 2 | 8 | 48 |
| CS Lewis Lions | 8 | 33 | Kelly's Heroes | 8 | 35 | Andrew's Army | 8 | 45 |
| QUB 1 | 8 | 31 | Fruithill | 7 | 26 | Ballynafeigh 3 | 8 | 31.5 |
| The A Team | 8 | 30 | Muldoons 2 | 8 | 20.5 | Ballynafeigh 4 | 8 | 20 |
| Ballynafeigh 1 | 8 | 26.5 | CS Lewis Witches | 8 | 20 | Bangor Wannabees | 8 | 14 |
| Bangor Groomsport | 8 | 13.5 | NI Civil Service | 7 | 19.5 | QUB 3 | 8 | 9.5 |