To Draw or not to Draw that is the question....
The first night of the Summer tournament saw 16 players enjoying a quiet evenings game of chess.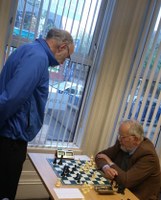 To Draw or not to Draw that is the question...and it was put quite rightly by Martin Kelly. His game against Stewart McConaghy was one of the last to finish. With Martin having seconds left and Stewart with over 20 mins. A Rook each and Stewart a pawn up. Martin claimed a draw - the game was continued and play observed. But Stewart was playing actively and possibly gave Martin some chances. The flag fell and Martin lost the game. Close.
The tournament has an excellent format - play is at the Bankers Club every Wednesday until the end of September, players are paired at 7:30pm and play starts promptly at 7:45. Players can drop in and get a game. There will be eventually 3 sections. Winners have to get the best percentage of their games and play over 10 games. With penalties applying if  they dont play 2 of the last 3 weeks. Full details Click here.
I paired the players by going up the list in rating order and taking consecutive players giving the lower rated the White pieces. Games went to rating. Apart from a couple of drawers, James Fairley beating David Seaby (Always a strong contender for a prize) and Garhy Aboelsoud beating Roy Stafford.
The other games, Robert Lavery drew against David Ruben and Chris Armstrong drew against Peter McGuckin.
A position from Mark Newman v Calum Leitch

The last moves were 1. g4  Bh6

Calum sacrifices a Bishop to open up the White King.

 

 
For full details of Standings and results
The tournament continues over the Summer. Please drop in for a game.