Ballynafeigh 1 win Silver King
(B&D League 2014/15 Week 18) The Silver King's destination was settled on Thursday night as leaders Ballynafeigh 1 defeated Bangor while in a rescheduled match from earlier in the season, second-placed Muldoons 1 were beaten by Lindores 1. In Division 2, although Ballynafeigh 3 made some inroads into Belfast South 2's lead, it looks like too little, too late.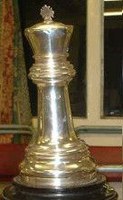 Division 1
Fruithill 1-4 Belfast South 1
Belfast South 1 defeated Fruithill as Sam Flanagan, John Bryars and Cathal Murphy won for the visitors. Stephen McCann drew with Ray Devenney, while Sean Linton drew with Martin Kelly.
Muldoons 1 4-1 Ballynafeigh 2
Muldoons 1 kept their title hopes alive (for a few more days) with victory over an under-strength Ballynafeigh 2 side. Gareth Annesley beat Thomas Donaldson, Nicholas Pilkiewicz beat John O'Doherty and Pat McKillen beat Liam Ferris. Stephen Wood drew with Ian Woodfield, while Suraj Tirupati (1050) continued his exceptional form by drawing with Danny Mallaghan (1776).
Thursday night saw the top three teams in action simultaneously - Ballynafeigh 1 travelled to Bangor, while Lindores 1 and Muldoons 1 played a postponed match from Week 14. If Ballynafeigh 1:
scored at least 1.5 points more than Muldoons 1, and
matched or exceeded Lindores 1's result, or scored 0.5 points less than Lindores 1
they would be confirmed as the champions.
Bangor 0.5-4.5 Ballynafeigh 1
Ballynafeigh 1 easily defeated Bangor as David Houston, Soren Jensen, Brendan Jamison and Damien Lavery racked up the wins. Bangor's sole half-point came from Mike McKimm (1401) who, for the third time in a row (and the fifth time this season), held a 1600+ player (Alan Thomason) to a draw.
This result eliminated Lindores 1 from the title picture, but Ballynafeigh 1 were still anxiously awaiting news from the Newtonards Road - if Muldoons 1 won by a margin of at least 3.5-1.5, the title chase remained alive for another week; otherwise, Ballynafeigh 1 were the champions.
Lindores 1 3.5-1.5 Muldoons 1
In the end, the Silver King would be on its way to the Ormeau Road as Muldoons 1 were defeated by Lindores 1. Both teams were missing one player from their strongest line-ups; Mike Redman from the home side and Nicholas Pilkiewicz for the visitors. While Lindores 1 were able to call upon Sam Moore (1645) to fill the gap on board 5 (not to mention that Redman has only been able to turn out once this season), Muldoons 1 had to make do with Pat McKillen (1284). Moore duly defeated McKillen, while Fred MacDonald drew with Stephen Wood on board 4. This meant the visitors would need 3/3 on the top three boards to mathematically stay in the title race; these hopes were dashed for good when Ross Harris beat Des Moreland. The top two boards were both drawn.
Congratulations, then, to Ballynafeigh, who win their first Silver King in their fifth season, after coming close in 2011/12.
Standings
| | Played | Points |
| --- | --- | --- |
| Ballynafeigh 1 (Champions) | 15 | 86.5 |
| Muldoons 1 | 16 | 68.5 |
| Lindores 1 | 15 | 63.5 |
| Ballynafeigh 2 | 16 | 52 |
| Belfast South 1 | 15 | 48.5 |
| Bangor | 16 | 32 |
| Fruithill | 15 | 26 |
Division 2
Ballynafeigh 3 3.5-1.5 Muldoons 2
Ballynafeigh 3, despite some key absences, narrowed the gap at the top of Division 2 with a good win over Muldoons 2 - but they would have made up more ground, had it not been for a player selection mistake on their part. On board 5, Billy Jackson seemingly got the home side of the mark with a draw against Paddy Maguire - however, Jackson was registered as a Ballynafeigh 5 player, and under the rules of the B&D League, this game was ruled a forfeit win for the visitors, with the home side assessed a one-point penalty. It's tempting to say this penalty could prove costly at the end of the season, but even without it Ballynafeigh 3 are in need of a catastrophic collapse from Belfast South 2. Nevertheless, Robert Lavery produced a fine attacking display to see off Bernard McCaughey, while additional wins for Stephen Rush and Eoin Carey (who is now on an incredible 16/17 for the season) secured the bonus points. Finally, James Barbour looked for a while as if he could beat Stephen Downes, but had to be content with a draw.
Ballynafeigh 4 0.5-4.5 NI Civil Service
NICS easily saw off a four-man Ballynafeigh 4 team, but will be disappointed at not having achieved the whitewash. Peter May, Mark Newman and Geoff Hindley all recorded wins, but David Jackson (1441) was held to a draw by Barney McGahan (987).
Ballynafeigh 5 0-5 QUB
QUB (Fong/Fozooni/Chapman/C. Roe/Magee) whitewashed bottom side Ballynafeigh 5 (Rainey/Campbell/Weir/Charles/E. Doak).
Belfast South 2 2.5-2.5 Lindores 2
"Kelly's Heroes" were held to a draw by third-placed Lindores 2. Ian Kilpatrick put the visitors ahead with a win over Steve Critchlow before John McKenna equalised at the expense of Jim McLean. Paul McNaughton restored Lindores 2's lead after punishing an unsound bishop sacrifice from David Ruben, but Bernard Jaffa levelled the score again by beating Andy Hughes. The match then rested on the board 5 encounter between Chris Armstrong and Iza Bujak; a draw was agreed and so the bonus points were shared.
Standings
| | Played | Points |
| --- | --- | --- |
| Belfast South 2 | 18 | 95.5 |
| Ballynafeigh 3 | 18 | 84 |
| Lindores 2 | 18 | 77 |
| NI Civil Service | 18 | 71.5 |
| Muldoons 2 | 18 | 61 |
| QUB | 18 | 52.5 |
| Ballynafeigh 4 | 18 | 44.5 |
| Ballynafeigh 5 | 18 | 11 |