Lavery Snaffles "Best Game" Prize - Again
Robert Lavery was awarded the "Best Game" prize again after this season Autumn series in the 3rd Belfast South Monday Tournament. Controller Neil Green reports...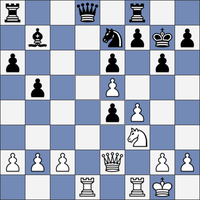 This is the third year of the Belfast South Monday Tournament.
Although this year's entry is down on previous years it has attracted new players  - including members of the newly reformed Queens University club. Given the mix of players, for 2014/15 the grading break has been set at 1300.
At the halfway stage after the Christmas break, Cathal Murphy is streets ahead in the lower section with 86%. The upper section is more open with Bernard Jaffa leading on 75% but having only played a few games, he will have to compete regularly over the next couple of months to reach the eligibility limit. Otherwise, Ian Woodfield leads the challengers on 69%. Robert Lavery and Stephen Rush are also in contention on 61% and 60% respectively.
Players need to compete in at least 50% of the season's games to be eligible to win; most of the leaders are only a few games away from achieving this but we are only half-way through with another 10 match-nights to play. Plenty of time for the leaders to be caught, by anyone, even a new entrant - start your own challenge next Monday at 7:30pm in the Bankers Club
Best Game Prize
In each section of the tournament - Autumn & Winter, before & after the Christmas break - a "Best Game" prize is awarded. For the Autumn, pre-Christmas session of the tournament the prize was awarded again to Robert Lavery for a brilliant Queen sacrifice in his game with Pat McKillen.