"Kelly's Heroes" secure Strawbridge Cup
(B&D Leagues 2014/15 Week 20) The new home of the John Strawbridge Cup was confirmed this week as Belfast South 2 defeated their nearest rivals Ballynafeigh 3. They will (barring any changes in league structure) swap divisions with Fruithill, whose 5-0 defeat at the hands of Lindores 1 consigned them to last place in Division 1.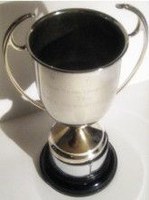 Division 1
Ballynafeigh 1 4.5-0.5 Belfast South 1
The champions recorded an easy win over an under-strength Belfast South 1 side, who were doubtlessly resting players in order to ensure that as many as possible would be available for their second team's crucial match the following night. David Houston, Steve Scannell, Soren Jensen and Damien Lavery won for the home side, while Derek Truesdale was the only visiting player to get a result as he drew with Tyrone Winter.
Ballynafeigh 2 2-3 Bangor
Bangor, fielding their strongest side of the season, earned a vital win away to Ballynafeigh 2. James Barbour came out on top for the home side in the battle of the unrated players on board 5. Mike McKimm continued his fine form with a win over Chris Kelly, while Paul McLoughlin turned around his recent poor form to beat Ian Woodfield. Thomas Donaldson defeated the returning James O'Fee, but Alan McConnell beat John O'Doherty to confirm the win.
Lindores 1 5-0 Fruithill
Lindores 1 (Horvath/Leitch/Harris/Kilpatrick/Gould) whitewashed a four-man Fruithill side (McCann/Parker/Linton/Monaghan). The result confirms Fruithill's relegation, as they are now eight points behind Bangor with only one match to play.
Standings
| | Played | Points |
| --- | --- | --- |
| Ballynafeigh 1 (Champions) | 17 | 94.5 |
| Lindores 1 | 17 | 76 |
| Muldoons 1 | 17 | 72 |
| Belfast South 1 | 17 | 55.5 |
| Ballynafeigh 2 | 17 | 54 |
| Bangor | 18 | 37.5 |
| Fruithill | 17 | 29.5 |
Division 2
QUB 2-3 Ballynafeigh 4
Ballynafeigh 4 beat QUB thanks to some fine performances from their lower boards. Paul Anderson, John Price and Barney McGahan all secured wins to give the visitors the bonus points, while Milad Fozooni and Chris Roe won for the home side on boards 1 and 2.
Belfast South 2 3-2 Ballynafeigh 3
"Kelly's Heroes" secured the John Strawbridge Cup with a win over second-placed Ballynafeigh 3 on Wednesday night. The visitors needed to win by a margin of at least 3.5-1.5 to keep the title race mathematically alive going into the final week - already a tough ask, since the hosts were unbeaten this season, but when Belfast South 2 unveiled a lineup including Stephen Morgan (1943) and Graeme McCormick (1715), the mountain Ballynafeigh 3 had to climb got even steeper. Still, in the form of Eoin Carey on board 4 and Suraj Tirupati on board 5, the visitors had two of the league's top in-form players, and it was the latter of these who gave Ballynafeigh 3 an early lead as he defeated William Storey. McCormick agreed a draw with Alan Thomason soon afterwards, before Stephen Morgan brought the home side to within half a point of the John Strawbridge Cup with a win over Stephen Rush. How were things on the remaining two boards? On board 4, Chris Armstrong was material up against Carey but had a precarious-looking king position, while on board 3, Robert Lavery was attempting to exploit John McKenna's weaker pawn structure in an otherwise-equal ending. McKenna, however, managed to create a passed pawn, forcing Lavery to abandon any ideas of winning, and the resulting draw put Belfast South 2 over the finish line in the title race. With that matter settled, the only question remaining was whether the home side would maintain their unbeaten record, of which Carey was asking some serious questions - until, that is, he blundered his rook, and the game with it. This was only his second failure to win (out of 19 games) in the league this season, and although he had the black pieces against a higher-rated opponent, it's fair to say his defeat came as a surprise.
Lindores 2 4-1 Ballynafeigh 5
This match saw Paul McNaughton on the receiving end of an upset for the second week in a row as he lost to the unrated Liam Ferris on board 1; it was plain sailing for the hosts on the lower boards, though, as Iza Bujak, Andy Hughes, David Barr and Garhy Aboelsoud all won.
NI Civil Service 3-2 Muldoons 2
Wins for Mark Newman, David Jackson and Adrian Dornford-Smith gave NICS victory against Muldoons 2. Pat McKillen and Rodney Orr won for the visitors.
Standings
| | Played | Points |
| --- | --- | --- |
| Belfast South 2 (Champions) | 20 | 106 |
| Ballynafeigh 3 | 20 | 92.5 |
| Lindores 2 | 20 | 88 |
| NI Civil Service | 20 | 78 |
| Muldoons 2 | 20 | 69.5 |
| QUB | 20 | 56 |
| Ballynafeigh 4 | 20 | 51.5 |
| Ballynafeigh 5 | 20 | 12.5 |