Upcoming UCU Competitions
3 UCU weekend tournaments will be held between now and the New Year.

THE ULSTER MASTERS
The Ulster Masters is now in its fourth year and once again is set for a change of venue returning to its original home in the Belfast Boat Club on 18th and 19th October 2014. The time control is 70 mins per player plus a 30 sec increment. In previous years the Masters has produced some excellent chess and high drama with last year being no exception. Gabor Horvath and Martin Kelly eventually running out winners in the Masters and Challengers respectively.
OMAGH RAPIDPLAY
The inaugural Omagh Rapidplay is taking place in Christian Brothers Grammar School on 22nd November 2014. The time control is 25 minutes per player for all moves so we should see some exciting chess! The tournament is open to players of all abilities and should be a fun day for all involved. It would be great to see players from all over Ulster attending this new event.
ULSTER BLITZ CHAMPIONSHIPS
The 4th Ulster Blitz Championships will be held this year at the Belfast Boat Club on 28th December 2014. The time control is 3 mins per player plus a 2 sec increment so we should see some great chess played at a frantic pace. A fantastic day out over the Christmas period!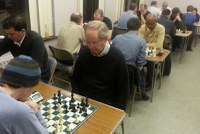 If you are interested in entering any (or all!) of these tournaments please contact Ross Harris at td@ulsterchess.org or telephone 07796172227.