Ballynafeigh 1 increase the gap
(B&D Leagues 2014/15 Week 12) Ballynafeigh 1 took advantage of Muldoons 1's slip-up with victory over Lindores 1, tightening their grip on the lead in Division 1. In Division 2, Ballynafeigh 3 have "Kelly's Heroes" in their sights after a convincing win over NICS.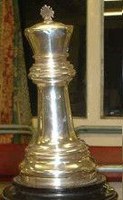 Ballynafeigh 1's to lose?
Division 1
Muldoons 1 2.5-2.5 Fruithill
Bottom side Fruithill held Muldoons 1 to a draw thanks to a couple of seriously impressive performances on the lower boards. Sean Linton (1319) claimed the scalp of Stephen Wood (1751) while John Wood (1540) was held to a draw by John Monaghan (1103). Danny Mallaghan and Des Moreland won their games for the home side, as expected, but Ciaran Marron defeated Nicholas Pilkiewicz to complete a memorable result.
Ballynafeigh 1 3.5-1.5 Lindores 1
A dramatic turn-around in the final minutes helped Ballynafeigh 1 to victory against title rivals Lindores 1. Ross Harris got the visitors off to a good start with a win over Brendan Jamison; meanwhile his team-mates all appeared to have good positions in their respective games. However, as the clocks ticked down the Ballynafeigh players began to whip up some counterplay and apply some pressure. Paul McNaughton was the first to crack as Soren Jensen, although a piece down, brought his extra pawns to bear on the position, forcing McNaughton to give back the material with interest and eventually resign. David Houston was in a similar predicament against Gabor Horvath, but the Ulster Champion couldn't cope with Houston's passed pawn. 2-1 to the hosts. Then, Steve Scannell turned a seemingly dead lost ending into a draw against Calum Leitch, guaranteeing at least a drawn match for the hosts. Finally, Damien Lavery was in all sorts of trouble against Fred MacDonald; a piece and two pawns down, in severe time trouble and subject to a seemingly unstoppable attack. A slip-up from MacDonald was mercilessly punished, though, as Lavery launched a swift counter-attack to win the match for the home side and put one hand on the Silver King.
Bangor 2-3 Belfast South 1
Wins for Sam Flanagan and John Bryars, along with draws on boards 1 and 3, gave Belfast South 1 the win away to Bangor, but unrated Michael Sheeran on board 5 scored an upset win over Martin Kelly.
Standings
| | Played | Points |
| --- | --- | --- |
| Ballynafeigh 1 | 10 | 59 |
| Muldoons 1 | 10 | 43 |
| Lindores 1 | 10 | 42 |
| Belfast South 1 | 10 | 33 |
| Ballynafeigh 2 | 9 | 27 |
| Bangor | 10 | 18.5 |
| Fruithill | 9 | 14.5 |
Division 2
Ballynafeigh 4 3-2 Lindores 2
Ballynafeigh 4 dealt a blow to Lindores 2's promotion hopes with this surprise win. Suraj Tirupati (1050) defeated Richard Gould (1525) in a contender for upset of the week, unrated Liam Ferris dispatched Andy Hughes, and Barney McGahan and John Price achieved good draws against Iza Bujak and Garhy Aboelsoud respectively. David Barr won for the visitors against Owen McEvoy.
Ballynafeigh 5 0-5 Muldoons 2
A week after being whitewashed by Ballynafeigh 3, Muldoons 2 (McCaughey/Downes/McKillen/Maguire/McBride) dished out one of their own to Ballynafeigh 5 (Seaby/Rainey/B. Jackson/Weir/Charles).
NI Civil Service 1-4 Ballynafeigh 3
Ballynafeigh 3 inched closer to the top of Division 2 with this win over NICS. WFM Karina Kruk got the ball rolling with a win over David Jackson, and although Stephen Rush lost to Mark Newman after failing to get sufficient compensation for an exchange sacrifice, Robert Lavery and Gerard Bannon won their games in quick succession to give Ballynafeigh 3 the bonus points. Adrian Dornford-Smith held out a while longer against Eoin Carey, but had to concede defeat in the end.
The scheduled match between Belfast South 2 and QUB was postponed. The leaders will play Ballynafeigh 3 next week in what could be a crucial match in the chase for the John Strawbridge Cup; if Ballynafeigh 3 win 4.5-0.5 or 5-0 they will take the lead for the time being, although "Kelly's Heroes" have a match in hand.
Standings
| | Played | Points |
| --- | --- | --- |
| Belfast South 2 | 11 | 60 |
| Ballynafeigh 3 | 12 | 55 |
| Lindores 2 | 12 | 51.5 |
| NI Civil Service | 12 | 45 |
| Muldoons 2 | 12 | 44.5 |
| QUB | 11 | 33 |
| Ballynafeigh 4 | 12 | 32 |
| Ballynafeigh 5 | 12 | 2 |