Ballynafeigh 1 finally beaten
(B&D League 2014/15 Week 19) It came too late to alter the destination of the Silver King, but champions-elect Ballynafeigh 1 fell to defeat against Lindores 1. In Division 2, "Kelly's Heroes" continued their march towards the John Strawbridge Cup with victory over QUB.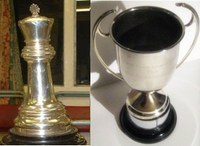 Division 1
Fruithill 2.5-2.5 Muldoons 1
Muldoons 1 were without their regular top board, Gareth Annesley, for their visit to Fruithill and the hosts took advantage, achieving a highly creditable draw to boost their survival chances. The highlight was, without a doubt, Frank Carrothers's (1412) win with the black pieces against Danny Mallaghan (1776).
Belfast South 1 4.5-0.5 Bangor
Fruithill received a further boost when fellow relegation candidates Bangor were only able to send a four-man team to the Bankers' Club to face Belfast South 1; they then collapsed to a 4.5-0.5 defeat. Michael Sheerin drew with WIlliam Storey, but Paul McGuigan, Walter Wilson and Gary Johnston were defeated by Ray Devenney, Sam Flanagan and Bruce MacLean respectively.
Lindores 1 3.5-1.5 Ballynafeigh 1
Lindores 1 handed Ballynafeigh 1 their first defeat of the season on Thursday night. The visitors were without Brendan Jamison, and Barney McGahan filled the gap on board 5; he was brushed aside by Ian Kilpatrick. Calum Leitch defeated Steve Scannell, while the other three boards were drawn.
Standings
| | Played | Points |
| --- | --- | --- |
| Ballynafeigh 1 (Champions) | 16 | 88 |
| Muldoons 1 | 17 | 72 |
| Lindores 1 | 16 | 69 |
| Belfast South 1 | 16 | 55 |
| Ballynafeigh 2 | 16 | 52 |
| Bangor | 17 | 32.5 |
| Fruithill | 16 | 29.5 |
Division 2
Muldoons 2 4.5-0.5 Ballynafeigh 5
Muldoons 2 claimed a routine victory against a four-man Ballynafeigh 5 side; Paddy Maguire drew with James Barbour, while Bernard McCaughey, Rodney Orr and Ben McBride defeated Norman Rainey, Bobby Campbell and James Weir respectively.
Ballynafeigh 3 3.5-1.5 NI Civil Service
Second-placed Ballynafeigh 3 defeated NICS despite being outrated on four out of five boards. The two teams exchanged wins on the bottom two boards - David Seaby beat Geoff Hindley, while Drew Ferguson beat Tyrone Winter. Eoin Carey then moved to an incredible 17/18 for the season after defeating David Jackson, and Stephen Rush sealed the win by beating Peter May. On board 2, Mark Newman expended huge amounts of material attempting to force through an attack, but Robert Lavery defended well, and after reaching a material advantage of two rooks, a knight and a bishop for a queen really should have finished the job. However, Lavery, seeing a potential perpetual check for Newman, incorrectly sacrificed a bishop to prevent it when a simple rook move would have kept the win alive, and as both players ran short on time Newman forced a perpetual anyway.
QUB 1.5-3.5 Belfast South 2
"Kelly's Heroes" maintained their 10.5 point cushion at the top of Division 2 with victory at QUB. There were surprise draws at opposite ends of the match - Paddy Magee (1118) drawing with Chris Armstrong (1430) on board 5 and David Ruben (1523) drawing with Gavin Fong (1826) on board 1. The other three games, however, went according to the form book, leaving Belfast South 2 in a commanding position going into next week's match with second-placed Ballynafeigh 3 - if they win, draw or lose 3-2, they win the John Strawbridge Cup, otherwise the matter will be settled on "Title Tuesday" on the 31st of March at Ballynafeigh Community House as Ballynafeigh 3 host Lindores 2 and Belfast South 2 play Ballynafeigh 4, although even if Ballynafeigh 3 managed to whitewash Belfast South 2 the Malone Road side would have the much easier task on the final day.
Lindores 2 3-2 Ballynafeigh 4
Lindores 2 defeated Ballynafeigh 4, although as the 500-point-per-board underdogs the away side did amazingly well to get those two points. Suraj Tirupati, once again, made a mockery of his 1050 rating by defeating Paul McNaughton (1649), while the unrated Liam Ferris dispatched David Barr. Richard Gould, Iza Bujak and Andy Hughes won for the home side.
Standings
| | Played | Points |
| --- | --- | --- |
| Belfast South 2 | 19 | 101 |
| Ballynafeigh 3 | 19 | 90.5 |
| Lindores 2 | 19 | 82 |
| NI Civil Service | 19 | 73 |
| Muldoons 2 | 19 | 67.5 |
| QUB | 19 | 54 |
| Ballynafeigh 4 | 19 | 46.5 |
| Ballynafeigh 5 | 19 | 11.5 |