The Belfast and District Leagues re-organised
Due to the unfortunate departure of the current holders of the Silver King, Fisherwick. The league controller has had to make some late changes to the fixtures. The league starts this coming week. We are looking forward to 21 weeks of chess battles. Ending week of March 31st.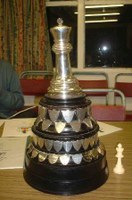 The fees for individuals for UCU membership are £10 and £5 concessionary as last year.
Team lists will be published shortly.
Full results will be maintained and viewable at : Division1, Division 2 to maintain this please be prompt reporting your results.
Please email or create news articles on this site reporting your matches. A good way of doing this is to take some photos and getting each player to write 3-4 lines of comment on their games.
Good luck and have fun.
Changes to the previous fixture list:
PLEASE NOTE:
In the first week:
Muldoons will now go to Belfast South first
Bangor will now host Lindores
Fruithill who are now in the first division, will have a free week next week
Civil Service will now play QUB at home instead.
Division 2 is now an all play all x3.
The A Team is obviously Belfast South
Questions to league controller Calum Leitch.

Division 1 : The Silver King
Division 2 : John Strawbridge Cup

Muldoons                   Mon 8.00 pm   Corporation Square

Fruithill                       Mon 7.45 pm Bowling club

Ballynafeigh 1, 2        Tues 7:30 pm BCDA

The A Team                Wed 7.30 pm Bankers club

Lindores 1                 Thurs 7.30pm Newtownards road

Bangor                          Thurs. 7.45 pm Groomsport Hall

Muldoons 2                   Mon 8.00 pm   Corporation Square

Ballynafeigh 3, 4, 5      Tue   7.45 pm BCDA

Lindores 2                 Wed 7.30 pm Newtownards road

Belfast South    2           Wed 7.30 pm Bankers club

Civil Service                 Thurs. 7.45 pm Pavilion

QUB                                            TBC

Week 1 Week Beginning 6th October

Ballynafeigh 2 vs Ballynafeigh 1

The A Team vs Muldoons

Bangor vs Lindores

Fruithill – free week

Muldoons 2 vs Lindores 2

Ballynafeigh 4 vs Ballynafeigh 3

Ballynafeigh 5 vs Belfast South 2

Civil Service vs QUB

Week 2  Week Beginning – 13th October

Muldoons vs Bangor

Fruithill vs Ballynafeigh 2

Lindores vs The A Team

Ballynafeigh 1 – free week

Ballynafeigh 3 vs Ballynafeigh 5

Ballynafeigh 4 vs Muldoons 2

Belfast South 2 vs Civil Service

Lindores 2 vs QUB

Week 3 Week Beginning 20th October

Ballynafeigh 1 vs Muldoons

Ballynafeigh 2 vs Lindores

Bangor vs Fruithill

The A Team – free week

Muldoons 2 vs Belfast South 2

Ballynafeigh 5 vs Ballynafeigh 4

Civil Service vs Lindores 2

QUB vs Ballynafeigh 3

Week 4  Week Beginning 27th Oct

Muldoons vs Ballynafeigh 2

Fruithill vs The A Team

Bangor vs Ballynafeigh 1

Lindores – free week

Ballynafeigh 3 vs Muldoons 2

Ballynafeigh 4 vs Civil Service

Ballynafeigh 5 vs QUB

Belfast South 2 vs Lindores 2

Week 5  Week Beginning 3rd November

Fruithill vs Muldoons

The A Team vs Bangor

Lindores vs Ballynafeigh 1

Ballynafeigh 2 – free week

Muldoons 2 vs Ballynafeigh 5

Ballynafeigh 3 vs Civil Service

Lindores 2 Ballynafeigh 4

QUB vs Belfast South 2

Free week – Week Beginning 10th November

Week 6  Week Beginning – 17th November

Ballynafeigh 1 vs The A Team

Ballynafeigh 2 vs Bangor

Lindores vs Fruithill

Muldoons – free week

Belfast South 2 vs Ballynafeigh 3

Lindores 2 vs Ballynafeigh 5

Civil Service vs Muldoons 2

QUB vs Ballynafeigh 4

Week 7  Week Beginning -24th November

Muldoons vs Lindores

Ballynafeigh 1 vs Fruithill

The A Team vs Ballynafeigh 2

Bangor – free week

Ballynafeigh 3 vs Lindores 2

Ballynafeigh 4 vs Belfast South 2

Civil Service vs Ballynafeigh 5

QUB vs Muldoons 2

Week 8 Week Beginning 1st December

Muldoons vs The A Team

Ballynafeigh 1 vs Ballynafeigh 2

Lindores vs Bangor

Fruithill – free week

Ballynafeigh 3 vs Ballynafeigh 4

Belfast South 2 vs Ballynafeigh 5

Lindores 2 vs Muldoons 2

QUB vs Civil Service

Week 9 Week Beginning 8th December

Ballynafeigh 2 vs Fruithill

The A Team vs Lindores

Bangor vs Muldoons

Ballynafeigh 1 – free week

Muldoons 2 vs Ballynafeigh 4

Ballynafeigh 5 vs Ballynafeigh 3

Civil Service vs Belfast South 2

QUB vs Lindores 2

Week 10 Week Beginning 15th December

Muldoons vs Ballynafeigh 1

Fruithill vs Bangor

Lindores vs Ballynafeigh 2

The A Team – free week

Ballynafeigh 3 vs QUB

Ballynafeigh 4 vs Ballynafeigh 5

Belfast South 2 vs Muldoons 2

Lindores 2 vs Civil Service

CHRISTMAS BREAK

Week 11 Week Beginning 6th January

Ballynafeigh 1 vs Bangor

Ballynafeigh 2 vs Muldoons

The A Team vs Fruithill

Lindores – free week

Muldoons 2 vs Ballynafeigh 3

Lindores 2 vs Belfast South 2

Civil Service vs Ballynafeigh 4

QUB vs Ballynafeigh 5

Week 12 Week Beginning 13th January

Muldoons vs Fruithill

Ballynafeigh 1 vs Lindores

Bangor vs The A Team

Ballynafeigh 2 – free week

Ballynafeigh 4 vs Lindores 2

Ballynafeigh 5 vs Muldoons 2

Belfast South 2 vs QUB

Civil Service vs Ballynafeigh 3

Week 13 Week Beginning – 20th January

Fruithill vs Lindores

The A Team vs Ballynafeigh 1

Bangor vs Ballynafeigh 2

Muldoons – free week

Muldoons 2 vs Civil Service

Ballynafeigh 3 vs Belfast South 2

Ballynafeigh 4 vs QUB

Ballynafeigh 5 vs Lindores 2

Week 14 Week Beginning- 27th January

Fruithill vs Ballynafeigh 1

Ballynafeigh 2 vs The A Team

Lindores vs Muldoons

Bangor – free week

Muldoons 2 vs QUB

Ballynafeigh 5 vs Civil Service

Belfast South 2 vs Ballynafeigh 4

Lindores 2 vs Ballynafeigh 3

Free week – Week Beginning 3rd Feb

Week 15 Week Beginning – 10th Feb

Ballynafeigh 2 vs Ballynafeigh 1

The A Team vs Muldoons

Bangor vs Lindores

Fruithill – free week

Muldoons 2 vs Lindores 2

Ballynafeigh 4 vs Ballynafeigh 3

Ballynafeigh 5 vs Belfast South 2

Civil Service vs QUB

Week 16 Week Beginning – 17th Feb

Muldoons vs Bangor

Fruithill vs Ballynafeigh 2

Lindores vs The A Team

Ballynafeigh 1 – free week

Ballynafeigh 3 vs Ballynafeigh 5

Ballynafeigh 4 vs Muldoons 2

Belfast South 2 vs Civil Service

Lindores 2 vs QUB

Week 17 Week Beginning – 24th Feb

Ballynafeigh 1 vs Muldoons

Ballynafeigh 2 vs Lindores

Bangor vs Fruithill

The A Team– free week

Muldoons 2 vs Belfast South 2

Ballynafeigh 5 vs Ballynafeigh 4

Civil Service vs Lindores 2

QUB vs Ballynafeigh 3

Week 18 Week Beginning – 3rd March

Muldoons vs Ballynafeigh 2

Fruithill vs The A Team

Bangor vs Ballynafeigh 1

Lindores – free week

Ballynafeigh 3 vs Muldoons 2

Ballynafeigh 4 vs Civil Service

Ballynafeigh 5 vs QUB

Belfast South 2 vs Lindores 2

Week 19 Week Beginning – 10th March

Fruithill vs Muldoons

The A Team vs Bangor

Lindores vs Ballynafeigh 1

Ballynafeigh 2 – free week

Muldoons 2 vs Ballynafeigh 5

Ballynafeigh 3 vs Civil Service

Lindores 2 Ballynafeigh 4

QUB vs Belfast South 2

Free week – Week Beginning 17th March

Week 20 Week Beginning 24TH March

Ballynafeigh 1 vs The A Team

Ballynafeigh 2 vs Bangor

Lindores vs Fruithill

Muldoons – free week

Belfast South 2 vs Ballynafeigh 3

Lindores 2 vs Ballynafeigh 5

Civil Service vs Muldoons 2

QUB vs Ballynafeigh 4

Week 21 Week Beginning 31st March

Muldoons vs Lindores

Ballynafeigh 1 vs Fruithill

The A Team vs Ballynafeigh 2

Bangor – free week

Ballynafeigh 3 vs Lindores 2

Ballynafeigh 4 vs Belfast South 2

Civil Service vs Ballynafeigh 5

QUB vs Muldoons 2