Ballynafeigh 1 hand on the Silver King
(B&D Leagues 2014/15 Week 15) Ballynafeigh 1 were the only one of the top three sides to win this week - surely they cannot be caught now? "Kelly's Heroes" are also a step closer to the John Strawbridge Cup despite a surprisingly unconvincing win over Ballynafeigh 5.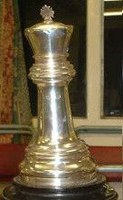 Division 1
Ballynafeigh 2 1-4 Ballynafeigh 1
Ballynafeigh 1 duly defeated their second team to extend their lead at the top of Division 1. There was a setback as Soren Jensen lost to Ian Woodfield, but David Houston, Brendan Jamison and Damien Lavery all secured wins to decide the match in their favour. Board 5  was contested by two players brought up from their Division 2 squads; Bobby Campbell claimed victory for Ballynafeigh 1 against James Weir.
Belfast South 1 2.5-2.5 Muldoons 1
Belfast South 1 held second-placed Muldoons 1 - without Gareth Annesley - to a draw at the Bankers' Club. The visitors got off to a good start as Nicholas Pilkiewicz defeated Bruce MacLean. Facing time trouble, Martin Kelly needed to find some clever sacrifices to force a draw with Bernard McCaughey, while Des Moreland defeated John Bryars to leave Muldoons 1 on the brink of victory. Belfast South 1's top boards came to the rescue, though, as firstly Ray Devenney then Sam Flanagan beat Danny Mallaghan and Stephen Wood respectively to salvage a draw for the home side.
Bangor 3-2 Lindores 1
Lindores 1 were without their usual frontman Gabor Horvath, but were still comfortable favourites going into this contest with sixth-placed Bangor. A couple of memorable performances, however, seemingly killed off what remained of the Newtownards Road side's title hopes. Unrated Michael Sheeran defeated Andy Hughes, while Mike McKimm (1401) continued his fine form by drawing with Sam Moore (1645) for the second time this season. Fred MacDonald defeated Walter Wilson, Paul McLoughlin drew with Ross Harris, and a fine win for Alan McConnell (1700) over Calum Leitch (1895) gave the home side the bonus points and some much-needed breathing space in the relegation battle.
Standings
| | Played | Points |
| --- | --- | --- |
| Ballynafeigh 1 | 13 | 75 |
| Muldoons 1 | 12 | 53 |
| Lindores 1 | 12 | 51 |
| Belfast South 1 | 13 | 41 |
| Ballynafeigh 2 | 13 | 39.5 |
| Bangor | 13 | 29 |
| Fruithill | 12 | 18.5 |
Division 2
Muldoons 2 2.5-2.5 Lindores 2
Muldoons 2 and Lindores 2 shared the points after Shane Keers defeated Stephen Downes for the visitors and Pat McKillen beat Iza Bujak for the home side. The other three games were draws, the highlight of these being Joe Rogers (1334) against Ian Kilpatrick (1571).
Ballynafeigh 3 3-2 Ballynafeigh 4
Some may have feared that F1-style team orders would decide this Ballynafeigh derby, with Ballynafeigh 4 sandbagging in order for the third team to close the gap at the top of Division 2 as much as possible; those fears were quickly dispelled as John Price (945) earned an upset win over Tyrone Winter (1189). Stephen Rush equalised with a win against Mark Hewitt, but when Ballynafeigh 4 earned their second point in the form of a win for Barney McGahan (987) against Gerard Bannon (1448) it began to look less like team orders and more like friendly fire. Robert Lavery levelled the match by beating David Seaby, but was made to work for it; an early mistake from Seaby saw his king trapped in the centre but he defended stubbornly thereafter, and what looked like a 15-move rout instead turned into a 58-move grind. The last game to finish was Owen McEvoy vs Eoin Carey on board 4; at various stages McEvoy looked set for a repeat of his stunning upset from week 8, but he eventually found himself in time trouble and lost.
Ballynafeigh 5 1.5-3.5 Belfast South 2
"Kelly's Heroes" increased their lead with this win against bottom side Ballynafeigh 5 - but only just, as the home side put up one of their better performances of the season. Chris Armstrong, Cathal Murphy and Robert McDonald won as expected on boards 3 through 5, but unrated James Barbour held Neil Green (1422) to a draw while Suraj Tirupati (1050) claimed a fine win over John McKenna (1503).
NI Civil Service 3.5-1.5 QUB
Wins from Mark Newman, Drew Ferguson and Peter Storey helped NICS to victory over QUB. The visitors 1.5 points were well-earned, though, as Chris Cao (1135) defeated David Jackson (1441) while Matthew Chapman (1401) held Peter May (1785) to a draw.
Standings
| | Played | Points |
| --- | --- | --- |
| Belfast South 2 | 15 | 81 |
| Ballynafeigh 3 | 15 | 69 |
| Lindores 2 | 15 | 63.5 |
| NI Civil Service | 15 | 62 |
| Muldoons 2 | 15 | 51 |
| Ballynafeigh 4 | 15 | 41.5 |
| QUB | 15 | 41.5 |
| Ballynafeigh 5 | 15 | 4.5 |