B&D Leagues 14/15 week 2 - Things go south for Lindores
Lindores 1 may have been among the favourites to lift the Silver King this season, but their Week 2 opponents Belfast South 1 were in no mood to be intimidated and scored the result of the week with an upset win.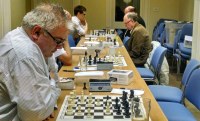 Belfast South 2 vs NICS
Division 1
Fruithill 0-5 Ballynafeigh 2
In their opening match of the season, an under-strength Fruithill were swiftly dispatched by Ballynafeigh 2. On the top board, Ciaran Marron blundered his queen in just nine moves against Damien Cunningham, and it didn't get any better for the home side as his teammates were brushed aside by their Ballynafeigh 2 counterparts. Making their debuts for the visitors were Ian Woodfield, formerly of Fisherwick, and John O'Doherty, who hadn't played a competitive game in around 25 years but showed no signs of rustiness as he defeated Sean Linton. The result put Ballynafeigh 2 at the top of the table, if only for a few minutes.
Muldoons 1 4.5-0.5 Bangor
Bangor fell to another heavy defeat against Muldoons 1. Although Paul McLoughlin achieved another draw against stronger opposition - Danny Mallaghan, in this case - it would prove to be Bangor's only result of the night. On board 5, John Wood, standing in for Nicholas Pilkiewicz, made his Muldoons debut with a win over Craig Kelly.
Lindores 1 1.5-3.5 Belfast South 1
"The A Team" achieved a surprise won over Lindores 1 after being on the back foot for almost the entire evening. The night started well for the home team as Gabor Horvath made short work of Ray Devenney. After two and a half hours of play, Lindores 1 were in firm control on all boards except Ruben-Keers on board 5, and Fred MacDonald made the seemingly wise decision to force a draw by repetition against John Bryars. Almost immediately, however, Calum Leitch and Ross Harris threw away commanding positions against Sam Flanagan and Bruce MacLean respectively, and suddenly the visitors were 2.5-1.5 up. On board 5, Shane Keers, needing to beat David Ruben to save the match and in serious time trouble to boot, sacrificed a piece to gain a dangerous-looking passed pawn. Would this gamble pay off? Ruben was getting short on time himself, so Keers had every reason to be optimistic, but he found some accurate defensive moves and simplified to a winning ending.
Standings
| | Played | Points |
| --- | --- | --- |
| Muldoons 1 | 2 | 12.5 |
| Lindores 1 | 2 | 8 |
| Ballynafeigh 2 | 2 | 7.5 |
| Ballynafeigh 1 | 1 | 6.5 |
| Belfast South 1 | 2 | 6.5 |
| Bangor | 2 | 1 |
| Fruithill | 1 | 0 |
Division 2
Ballynafeigh 3 3-1 Ballynafeigh 5
For the second week in a row Ballynafeigh 3 were pitted against their clubmates. The highlight of this match was a long-awaited win for Ballynafeigh 5's Bobby Campbell against Tyrone Winter on board 3. Campbell had gone the whole of the 2013/14 season without winning a game, so this will have come as a massive relief. As neither team fielded five players, no bonus points were awarded.
Ballynafeigh 4 2-3 Muldoons 2
Despite being a player short, Muldoons 2 had enough about them to see off the challenge of Ballynafeigh 4. A defeat for Paddy Maguire at the hands of John Price was the only negative for the visitors as Bernard McCaughey, Stephen Downes and Pat McKillen all racked up wins.
Belfast South 2 3-2 NI Civil Service
"Kelly's Heroes" built upon their first-week whitewash of Ballynafeigh 5 with a narrow win over NICS. Stephen Critchlow put the home side in the lead after opponent Drew Ferguson hung his queen. Adrian Dornford-Smith then levelled the match when he won an exchange against Robert McDonald and saw off his opponent's counterplay to reach a won ending. In the first of two games between former Lagan teammates, Geoff Hindley's flag fell against William Storey, but they shared the point as Storey had insufficient material to deliver mate. The other, between Chris Armstrong and David Jackson, also ended in a draw. The match hinged, then, on the top board encounter between Mark Newman and John McKenna. They reached a complicated knight and pawns ending where Newman's pawns proved to be weaker. He battled gamely but his clock ticked down, his flag fell and Belfast South 2 claimed the match.
Lindores 2 3.5-1.5 QUB
Lindores 2 defeated QUB thanks to wins for Paul McNaughton, Ian Kilpatrick and David Barr against Matthew Chapman, Mohamed Saad and Chris Roe respectively. The visitors, though, appear to have unearthed a promising player as James Baker went 2/2 with a win over Iza Bujak.
Standings
| | Played | Points |
| --- | --- | --- |
| Belfast South 2 | 2 | 12 |
| Muldoons 2 | 2 | 10 |
| NICS | 2 | 8 |
| Lindores 2 | 2 | 7.5 |
| Ballynafeigh 4 | 2 | 7 |
| Ballynafeigh 3 | 2 | 5 |
| QUB | 2 | 2.5 |
| Ballynafeigh 5 | 2 | 1 |