Autumn Tournament Kicks Off
The latest Autumn tournament hosted by Belfast South started last Monday. After the UCU Master event held over the weekend, the turnout was understandably "meagre". There were plenty of new faces at the Masters and adding their names to list of the nearby QUB League Team - this regular tournament gives ample opportunity for the new guys to sharpen their online-technique into successful over-the-board play. The old guard had better watch out.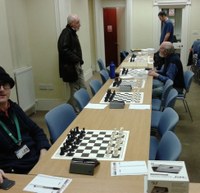 This is a flexible open tournament similar to that of the Eglantine Summer Tournament. Players may play up to a maximum of 20 games but a minimum  of 10 must be played to qualify for a prize. Regardless of the overall number of games played 2 must be within the last 3 weeks of the tournament to be eligible for prizes. To maximize the number of players receiving prizes, in the event of a player being eligible for a grading as well as a 1st/Runner- up prize, the grading prize will be allocated to the next best player. There will also be 2 prizes of £10 for the best game played before and after the Xmas break.
For grading purposes the latest UCU ratings list will be used. Players will be assigned a grading band according to the tournament entry list.  As far as practicable but not exclusively, pairings will be made within grading bands.
Current standings and match pairings can be followed in the Results Service
There will be a first prize of £60 and £40 to the runner up based on players overall % score. There will also a grading prize for each band to the player with the best percentage score.
Venue: The Bankers Club, 29- 31 Malone Road Belfast
Autumn Dates: Monday 20 October  - 15 December 2014
Winter Dates: Monday 5 January  - 16 March 2015
Time:            7.30pm – 10.30pm ( 1 hr 30 mins per clock)
Entry Fee:    £26 to non-club members and those club members only wishing to play in the tournament . Cheques can be made payable to Belfast South Chess Club and given to the Controller or David Ruben.
Further information and entries to the Controller, Neil Green. Contact details are in the various event announcements (check the calendar)