Just for Pun
After 2 encouraging results against Ballynafeigh 2 and Muldoon's 1, the "white van men" fell down to earth with an almighty bump last night against a team we previously beat 5.5-1.5 ! Meanwhile over at the Pavilion, Kelly's Heroes got a cool reception from NICS.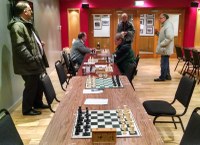 White Van Men (AKA the A-Team) vs Lindores
| A Team | | Lindores |
| --- | --- | --- |
| RAY DEVENNEY | 0-1 | GABOR HORVATH |
| SAM FLANAGAN | 0-1 | CALUM LEITCH |
| BRUCE MACLEAN | 0-1 | ROSS HARRIS |
| JOHN BRYARS | 0-1 | FRED MACDONALD |
| WILLIAM STOREY | 0-1 | SAM MOORE |

It was a case of "the moore, the merrier" for Sam on Board 5 as William "The Conqueror" failed to live up to his nickname!

Gabor was "hungary" for victory against Ray, who made a "clerical" error to lose the game!

On Board 3, Sam as vice-captain was forced to put a nought in the results "calum" after his defeat!

'Fred to say John on Board 4 was unable to draw with MacDonald, as he had done before, as the latter withstood deep time trouble to clinch a win!

I was expecting a "loss from Ross" in the last game but he came up, smelling of "rosses" to complete the whitewash!

Oh well, as the song goes, "the only way is up" and at least The A Team gets a long Christmas break to recharge their batteries.

In the meantime, if Siebren, Stephen and Graeme are ready, willing and able to start playing again for us in the New Year, I'd be very happy to hear from you!
NICS vs Kellys Heroes
| NICS | | Kelly's Heroes |
| --- | --- | --- |
| Mark Newman | 1 - 0 | David Ruben |
| Peter May | 0 - 1 | Neil Green |
| David Jackson | 1 - 0 | Bernard Jaffa |
| Drew Ferguson | 0 - 1 | Cathal Murphy |
| Geoff Hindley | 0 - 1 | Martin Kelly |
As Wellington said of Waterloo. This was "a close-run thing", but it put us 6.5 points clear in Division Two.

The match began with a shock result on Board 2, where Neil produced his own "Evergreen" game, a "May jor" upset as previously unbeaten Peter's Bird's (opening) was well and truly "stuffed"!

Civil Service got revenge when Bernard decided to "jack" it in against Jackson, meaning there was not even, for Jaffa, a "haffa" point, despite his recent good form!

Ferguson then "drew" gasps from the audience as he failed to force a perpetual check - he then "drew" sympathy when losing to Cathal, as Drew "blew" it!

Hindley couldn't "handle a" big attack from Kelly against his Caro-Kann, proving his "Caro-Kann can't"!

A full "mark" for Mark on top board didn't prevent his team losing but I hope this doesn't "mark" him for life, as there was, for Newman, no "cardinal" errors (viz. Cardinal Newman-google it!)!
Christmas Bash
Don't forget the Christmas Quiz and social evening at the club on Monday, 22/12/14 at 8pm - if I don't see you there, Merry Christmas and a Happy New Year !