Monday Tournament Races to a Close
With only a few weeks to go the tournament is reaching a climax, as players not only have to play a minimum of 10 games but also  play at least twice in the last 3 weeks.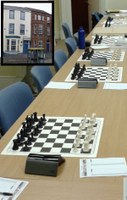 Cathal Murphy ( Belfast South) is still leading the tournament with 78% from 13 games but Chris Cao ( QUB) is hot on his heels with  71% from 7 games so the winner is not a foregone conclusion.
The tournament has 2 grading prize sections: in the upper section ( 1300 +) Stephen Rush is leading with 64% from 7 games, closely followed by Robert Lavery and Ian Woodfield who both have 62% from 13 games. Cathal Murphy is leading the lower section but he has to contend with Chris Cao. As players cannot receive a prize for winning both the tournament and a section, the respective prize winners are still open to question.
The Best Game prize for the post-Xmas phase of the tournament has also to be decided. There are 2 contenders at present and possibly more entries to come.
Links