Over half-way through the Summer Tournament - how do we stand?
Eleven weeks of excellent chess - whos winning? whos close to meeting the minimum 10 weeks ... We have 9 rounds left, so lots could happen.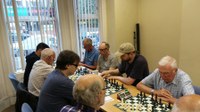 We have had 11 weeks of chess. With number of players varying between 20 and 26 per evening and a total of 124games played and 40 participants,
Just a reminder of the format for the competition:
Format The tournament is flexible – players play whichever nights suit them with pairings being made on the evening. Players are usually paired with opponents within their own grading band but late comers may get a difficult draw or may not be paired – so please be prompt.
Rules
1. Players must complete 10 games to be considered for prizes.
2. If a player does not play in two of the last three rounds they will be assumed to have played and lost 2 games. If they play only one then they will forfeit one game.
3. However if a player has played 14 or more games then they are exempt from rule 2.
4. Scores will be calculated on a percentage basis, of a players total games.
We have three sections.
The top section is currently lead by Richard Gould with a percentage of 81.25%. Followed by Stephen Rush with 75%, and Sergio Esteve Sanchez and Gareth Annesley on 66.67%
The middle section is lead by C J Murphy on 90% followed by Stewart McConaghy 61.11%, William Storey 60%, Ram Rajan 57.14%
The lower section has leading it Daniil Zelenchuk 77.78%, Adrian Dornford-Smith 75%, Dmitry Zelenchuk 66.67%.
Special mention of Derek Trusdale who has competed on all rounds.
For the details of the results: http://www.ulsterchess.org/competitions/competitions/comp-3032/cvt_event/standings/359#tabhead
| Name | Rating | Played | Points | % |
| --- | --- | --- | --- | --- |
| Top Section | | | | |
| Bobby Thompson | 1662 | 3 | 3 | 100 |
| Richard Gould | 1530 | 8 | 6.5 | 81.25 |
| Stephen Scannell | 1983 | 2 | 1.5 | 75 |
| Stephen Rush | 1728 | 6 | 4.5 | 75 |
| Gareth Annesley | 1927 | 3 | 2 | 66..67 |
| Sergio Esteve Sanchez | 1858 | 9 | 6 | 66.67 |
| Mikhail Pavlov | 1631 | 8 | 4.5 | 56.25 |
| David Ruben | 1539 | 10 | 5.5 | 55 |
| John Masterson | 1766 | 1 | .5 | 50 |
| Ian Woodfield | 1650 | 7 | 3.5 | 50 |
| Robert Lavery | 1594 | 7 | 3.5 | 50 |
| John Bryars | 1550 | 8 | 4 | 50 |
| Mark Newman | 1748 | 7 | 2 | 28.57 |
| Pat Coleman | 1700 | 4 | 1 | 25 |
| Christopher Kelly | 1542 | 4 | 1 | 25 |
| John McKenna | 1517 | 6 | 1 | 16.67 |
| Nicholas Pilkiewicz | 1883 | 1 | 0 | 0 |
| Middle Section | | | | |
| C J Murphy | 1353 | 5 | 4.5 | 90 |
| Stewart McConaghy | 1367 | 9 | 5.5 | 61.11 |
| William Storey | 1342 | 5 | 3 | 60 |
| Ram Rajan | 1289 | 7 | 4 | 57.14 |
| Chris Armstrong | 1445 | 8 | 4.5 | 56.25 |
| Neil Green | 1417 | 4 | 2 | 50 |
| Roy Stafford | 1222 | 10 | 4.5 | 45 |
| Martin Kelly | 1360 | 5 | 1.5 | 30 |
| Bernard Jaffa | 1428 | 7 | 2 | 28.57 |
| Peter McGuckin | 1472 | 2 | .5 | 25 |
| Patrick McKillen | 1369 | 2 | 0 | 0 |
| Lower Section | | | | |
| Daniil Zelenchuk | 1003 | 9 | 7 | 77.78 |
| Adrian Dornford-Smith | 1123 | 6 | 4.5 | 75 |
| Dmitry Zelenchuk | 1128 | 9 | 6 | 66.67 |
| Alan York | 1149 | 5 | 3 | 60 |
| Geoff Hindley | 1087 | 10 | 5 | 50 |
| Mary McCabe | 1000 | 7 | 0 | 0 |
| Aaron Rush | 922 | 3 | 1.5 | 50 |
| Derek Truesdale | 1019 | 11 | 5 | 45.45 |
| James Fairley | 906 | 10 | 4.5 | 45 |
| Barney McGahan | 1005 | 9 | 3.5 | 38.89 |
| Robert Clarke | | 3 | 1 | 33.33 |
| David Seaby | 1111 | 10 | 3 | 30 |