Simon Williams GM played simultaneous 18th February
On the evening of 18th February, Belfast for another year had the visit of a top Grand Master - Simon Williams played 32 players. From young school students to hardened club players.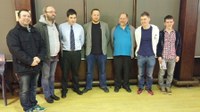 Thirty two empty tables sat with 32 pieces a scoresheet, a certificate with "I Survived ___ moves"  waiting in anticipation for a battle of minds.
The 32 players:

Edward Doak 1198
Dennis Wilkinson 1315
Brendan Jamison 1653
Mikhail Pavlov 1500
Daniil Zelenchuk 850
Dmitry Zelenchuk 1050
Richard Gould
Aaron Rush
Chris Armstrong 1476
Dominic Gallagher 1253
Pat McKillen 1387
David McEneaney
Hassan Kadhim
James O'Fee 1681
Michael Sheerin 1400
Ross Harris 1694
Mark Newman 1742
Ian Kilpatrick 1565
Richard Gould
Geoff Hindley 1093
Damien Cunningham 1707
Peter Todd 1300
Andrew Todd 1305
Samuel Todd 900
Ian Woodfield 1653
Chris Roe 1173
Calum Leitch 1843
Robert Lavery 1587
Adrian Dornford-Smith 1102
Stephen Morgan 1943
Ben Campbell 893
David Barr
To get an opportunity to play top players is rare. Damien Cunningham has made it his mission to bring us every year such a golden opportunity.
The event is like an injection of excitement and fun into our chess year.
Add to that the brilliant player and GrandMaster Simon Williams - who plays a challengingly aggressive game. Get beaten but love the game played.
Simon arrived and after being introduced with a warm welcoming applause. Started the circuit of 32 players making a move and shaking hands with the players.
Simultaneous quite an unusual way of playing - you need to have your move ready to be done when Simon makes a full circuit which with all players can take 15 or so minutes. The less players the quicker the moves happen. Simon comes to your board sees your move and responds almost immediately hence its a challenge we get more time and one game and our opponent plays 30 very fast games.... but the level of play of a Grand Master is brilliant and its very difficult/impossible for the average player to beat them even in these conditions. Hence the certificates with the words - " I Survived xx moves against Simon Williams GM"..
I'll let the photos tell the storey....
The first winner Michael Sheerin. Sits next to Ross Harris who also won. Meanwhile the players were beginning to drop and the moves got faster.
Stephen Morgan sitting between Mark Newman and Calum Leitch - all with Rook endings. Stephen and Mark managed to get draws.
Three left - Andrew Todd gets a draw and Chris Armstrongs hopes for a win but...
Chris Armstrong the 2nd to last man standing. Almost winning, but Simon gets what looks like a perpetual check and Chris puts his King onto a square where his pieces block his movement and wham checkmate. So close.
Last player standing Mikhail Pavlov is finally beaten. and a big thank-you to Simon for some brilliant chess. What was also special was that at the end of each game Simon took time to chat to the player about the game - very much appreciated. Also signing the certificates and score sheets.
Now some brilliant photos from Pat McKillen
Two games from the tournament one a win from Brendan Jamieson (now calling himself the GM slayer! and a draw from Mark Newman (who felt lucky that Simon didnt play on and probably win!)
White: GM Simon Williams

Black: Brendan Jamison

1.     e4             e6

2.    Nf3           c5

3.    b3             Nc6

4.    Bb2           Nf6

5.    e5             Nd5

6.    Nc3          Nxc3

7.     dxc3        d5

8.    exd6 e.p. Bxd6

9.    c4             Rg8

10.  Bd3           g6

11.   Qd2          Bf8

12.   O-O-O     Nb4

13.   Qf4          Qa5

14.   Ng5         f5

15.   a3            Na2+

16.   Kb1          Nc3+

17.    Ka1          Bg7

18.    Rde1       Ne2




White: GM Simon Williams

Black: Mark Newman

1.     Nc3            d5

2.     e4               d4

3.     Nce2         Bg4

4.     h3              Bh5

5.     g4              Bg6

6.     Ng3           e6

7.     d3              c5

8.     f4               Qh4

9.     Kf2            h6

10.   Nf3           Qd8

11.   f5              Bh7

12.   Bg2          Nc6

13.   Qe2          Qc7

14.   e5             O-O-O

15.   Re1          Nge7

16.   fxe6          f5

17.   exf6          gxf6

18.   Nh5           Nd5

19.   Nh4           Be7

20.   Qf3            f5

21.   Nxf5         Bxf5

22.   gxf5          Bh4+

23.   Kf1            Bxe1

24.   Kxe1         Qe5+

25.   Qe4           Qd6

26.   Bf4            Qe7

27.   Ke2           Qh4

28.   Bf3            Rhg8

29.   Bg3           Qe7

30.   Bg4           Nf6

31.   Nxf6         Qxf6

32.   Qf4           Rg7

33.   Bf3           Qg5

34.   Bxc6        Qxg3

35.   Bd7+        Rdxd7

36.   exd7+      Kxd7

37.   Qxg3        Rxg3

38.   Rf1           Ke7

39.   Rf3           Rg2+

40.   Kd1          Rg1+

41.   Ke2          Rg2+

Draw agreed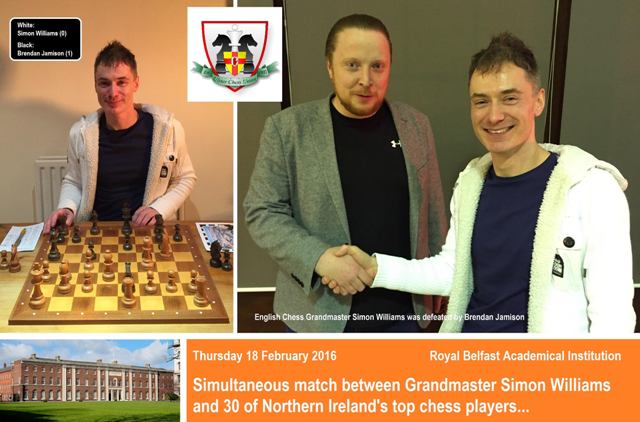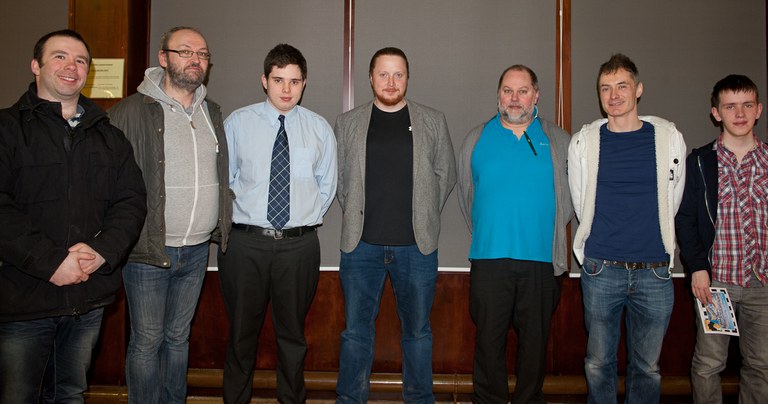 The fantastic Grand Master Simon Williams with..
3 Winners:  Ross Harris, Michael Sheerin and Brendan Jamieson.
3 Draws :  Steve Morgan, Mark Newman, Andrew Todd
The completed boards showing mainly White Kings in the Centre - a win for Simon Williams. 26 wins.
Many thanks to Simon for a great evening of chess.