2015 Ulster Rapidplay Championship Review
The 2015 Ulster Rapidplay Championship was held in Ballynafeigh Chess club on Saturday 25th April.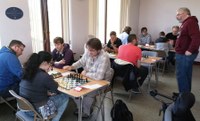 Ulster Rapidplay 2015
The tournament got off to a blistering start with upsets aplenty in round 1 - Karena Kruk beat defending champion Ciaran Quinn, Robert Lavery drew with Soren Jenson, David Barr drew with Calum Leitch, Pat McKillen beat John O'Doherty and Sandor Kacziba won against Sam Moore! This set the tone for the whole day and ensured the title went right down to the wire, indeed, going into the final round 6 players could still win the tournament. Out in front were Ciaran Quinn and Mark Newman on 4 points but hot on their heels, on 3.5 points, were Damien Lavery, Calum Leitch, Soren Jenson and Niall Troughton.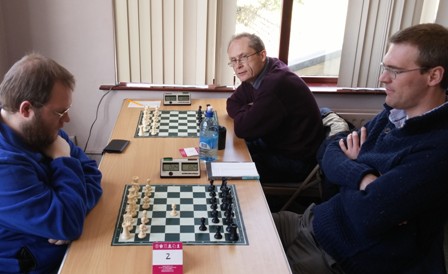 The final round pairings on the top boards were as follows -
Mark Newman          vs            Ciaran Quinn
Soren Jenson           vs            Niall Troughton
Damien Lavery         vs            Calum Leitch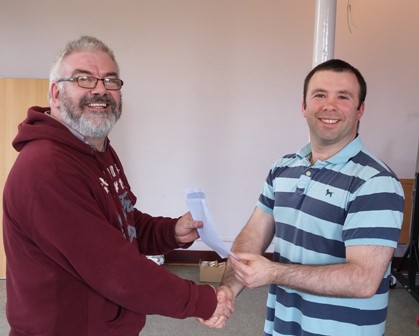 Niall Troughton had an excellent tournament and shared the lead going into round 4 after winning his first three games. He ran into stiff opposition in his final three games and draws with Damien Lavery and Soren Jenson, and a loss to Ciaran Quinn meant he finished in a very commendable 6th place. Pat Mckillen continued his recent good form and finished on 3 points, which is all the more impressive given that he played higher rated opponents in every round. He had notable wins against John O'Doherty and Ian Woodfield. The Grading prize went to Chris Armstrong who secured the prize by beating David Barr in the final round in a very entertaining game.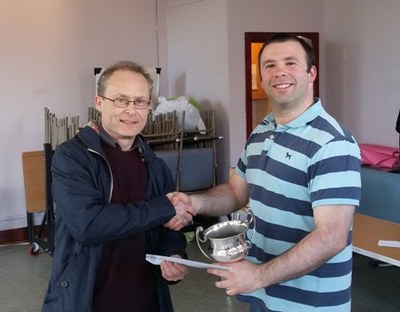 On the top board Ciaran Quinn, playing with the black pieces, put Mark Newman under pressure in a complicated middle game. Eventually the pressure told and Mark fell to a nice combination which eventually won the game and the tournament for Ciaran. He has now won an astounding 11 out of 12 games over the last two years in the Ulster Rapidplay and it remains to be seen whether any of our local talent can stop him claiming a hat trick of titles next year! Damien Lavery grabbed 2nd place with a win against Calum Leitch in the final round.