City of Belfast Championships Review
The 2015 City of Belfast Championships turned out to be a great weekend's chess with plenty of fireworks and tension right down to the last minute of play.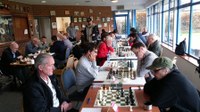 City of Belfast Championships 2015
The Henderson Cup proved to be an exciting competition which went right down to the wire in a final round showdown between Pat McKillen and Richard Gould. Despite only needing a draw to secure the title for the second year in a row, Pat played in a very aggressive manner against Richard's Pirc. With Pat castling queenside and Richard not castling at all, an ultra sharp game ensued with chances for both sides. Pat developed quickly and his attack on the king came first, resulting in the loss of Richard's b pawn. This gave Pat two connected passed pawns which eventually won him the game. The evergreen Stewart McConaghy also had a good competition finishing on 4.5 / 6 only losing points to Pat McKillen and his usual Sunday morning travelling bye. There were 2 other notable performances over the weekend - 15 year old Edward Doak and UCU newcomer Craig Stevenson both scored 3.5 / 6 and received grading prizes. This was Edward's 2nd competition and Craig had only played chess online before the weekend. Hopefully we'll see a lot more of these two over the next few years.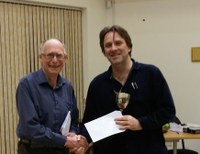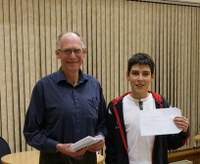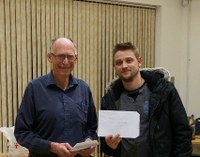 The Nemtzov Cup proved to be as exciting as the Henderson Cup with Gabor Horvath and Gareth Annesley battling it out for the title. The game between the two in the second round ended in a draw and neither dropped any further points until round 5, when Gabor drew with John O'Doherty. That left Gareth half a point ahead going into the final round, where he had the black pieces against Stephen Rush. Gabor was black against Mark Newman and needed to win to have any chance of lifting the title. Gabor started slowly against Mark and was uncharacteristically passive, so Mark launched a ferocious kingside attack! Gabor had castled kingside with pawns on f7, g6 and h7. Mark decided not to castle but instead launched an h pawn at Gabor's king, swapped off h pawns and then sacrificed his bishop on g6! This was an attack the late Alan Burns would have been proud of!
Meanwhile, Gareth Annesley was getting into hot water against Stephen Rush. Stephen had won a knight for a pawn and entered an endgame with a bishop and 4 pawns against Gareth's 5 pawns, however, Gareth's king was centralised and Stephen's was stuck out on the h file. Gareth marched his King over to attack Stephen's pawns, if they fell the game was in the balance. Stephen managed to avoid this by a well timed pawn push which secured his queenside, allowing him to advance on the kingside and win the game.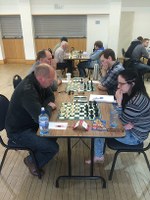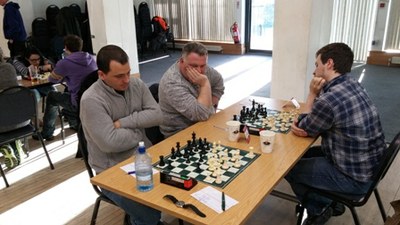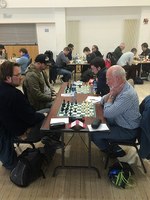 So if Gabor won, the title was his. Although Gabor had defended well and now had a distinct advantage, the position was a mess with pieces hanging and threats all over the board. Mark kept creating new threats and asking questions but Gabor found all the right answers and eventually won the game. So the 2015 Nemzov Cup winner was Gabor Horvath adding to his overflowing trophy cabinet which already held the Ulster Senior Championship, the Williamson Shield and The Ulster Blitz!
The grading prize went to WFM Karina Kruk who has had considerable success in the Henderson Cup over the years, however, this was her first year qualifying for the Nemtzov cup. She was the lowest seed in the competition but finished on an excellent 3.5 / 6 including a win against Mark Newman and a draw against Calum Leitch.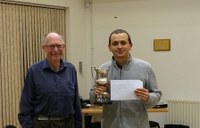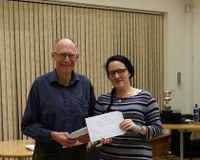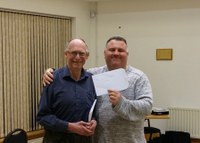 It was great to see so many players turn out for the tournament and congratulations to all the winners.