Ulster Championships Round Up
A round up of the 2014 Ulster Championships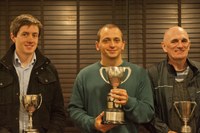 The Europa Hotel was once again the scene of a fantastic Ulster Championships over the August bank holiday weekend. With 58 players all chomping at the bit and a total prize fund of £1000 at stake, the atmosphere in the playing hall was electric. There was a great mixture of players present from total beginners to the top seed in the senior section with a FIDE rating of 2268. Thanks to the efforts of Mark Newman, working tirelessly with children's chess, and Damien Cunningham, who seems to produce an endless supply of new players from Ballynafeigh, the junior section was bulging at the seams with a massive 32 participants. The large number of entrants made for an exciting weekend of chess with many of the prizes going right down to the wire on the final day.
JUNIOR SECTION
The Junior competition proved to be the most closely contested section with 6 players in with a chance of the title going into the final round. Top seed Eoin Carey had a half point advantage over the rest of the field but was pitted against UCU Treasurer Adrian Dornford-Smith, who was positioned 2nd at the time.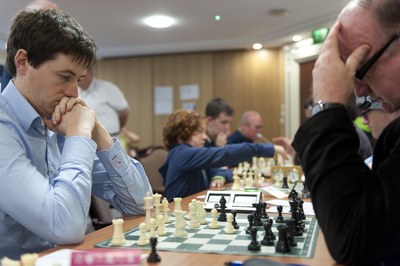 Carey, who had proved himself a very tough competitor last year in the league, prevailed in the game and won the junior section with a score of 5.5 / 6. Two players to look out for in the future are 9 year old Teddy Onslow who finished 2nd and Bangor schoolboy Andrew Todd who finished 3rd. Teddy was the only player to take any points of winner Carey and Andrew had notable wins over seasoned players Cathal Murphy and John Monaghan. Other notable performances came from Stephen Cullen and David Barr who both scored 4 / 6 in their first competition.
1st Place       Eoin Carey
2nd Place      Teddy Onslow
3rd Place       Andrew Todd
Grading         Stephen Cullen
INTERMEDIATE SECTION
As always the intermediate section was a closely fought battle and this year the main protagonists were Niall Troughton and Norman McFarland. Troughton set the early pace winning his first 4 games while McFarland dropped points with a travelling bye and a draw against 11 year old Alfie Onslow, who scored an excellent 3 / 6 in his first Ulster Championships. McFarland beat Troughton in round 5 to draw level on points and setting up a tense finale. Both players won their final games and McFarland took the title on tie-break.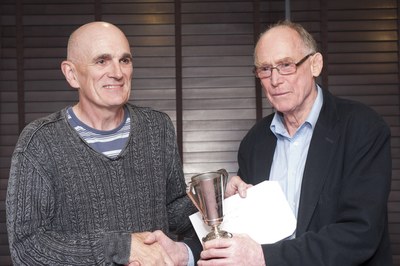 1st Place      Norman McFarland
2nd Place     Niall Troughton
3rd Place      Ian Woodfield
Grading        Bernard Jaffa
SENIOR SECTION
Gabor Horvath lived up to his pre-tournament status as favorite by winning the Ulster Seniors with an impressive score of 5.5 / 6. His only half point dropped came in the final round when he ran into some home preparation against Lindore's team mate Ross Harris. Horvath went for an early kingside attack in a lesser known variation of the Caro-Kann, however he left his king in the centre and Harris was able to create a dangerous attack by sacrificing the exchange. Horvath forced an early draw in a very complicated and double-edged position.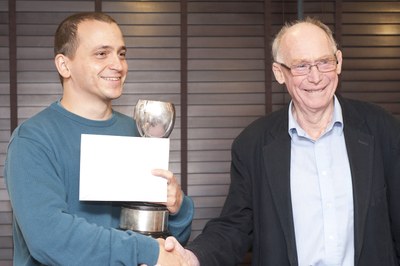 Going into the final round the fight for 2nd and 3rd place was really heating up with Stephen Scannell, James McDonnell and Nicholas Pilkiewicz battling it out for the two positions. Calum Leitch beat Pilkiewicz in a London System knocking him out of contention. That left Scannell and McDonnell to fight it out for the final two places and the match went right down to the wire. With both players short on time, in a complicated rook and pawn ending, the pressure was almost unbearable. A crowd of around 25 people watched on with bated breath and a draw was finally agreed which clinched Scannell 2nd place.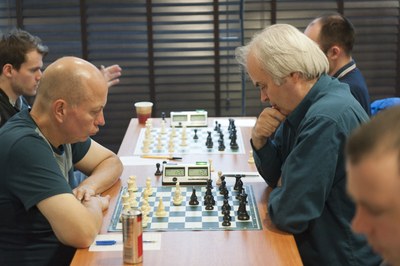 There were very commendable performances from Brendan Jamison who won the grading prize with 3.5 / 6 and Robert Lavery who scored 2 / 6 in his first Senior Championships when he was heavily out-rated by all his opponents.
1st Place     Gabor Horvath
2nd Place    Stephen Scannell
3rd Place     James McDonnell
Grading       Brendan Jamison