Summer School 2014. A new venue and lots of fun.
This year saw the Summer School at a new venue. The Ballynafeigh Bowling Club - Ormeau Park. A beautiful setting for some fun chess. We had 14 youngsters playing endgames, solving problems and playing in a competition.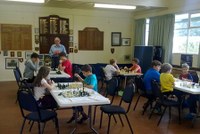 The focus of this years school was endgames. From opposition to minor pieces to Queen against a pawn.
The activities for the three days of concentrated chess fun included. Solving problems in teams. Playing an individual tournament. Scoring and analysing a chess game played with a partner (we paired more experienced players with beginners to faciliate coaching between students). Gareth Annesley setup problems and coached their solutions. We played through a brilliant Capablanca Ending. A complete game showing the development of a middle game plan. Battle-Chess with Kings and 4 Pawns, excellent practice for endgame play. Battleships with a chess board, which lets the player learn/visualize the board.
One of the team games: Pheobe and Michael v Eoin and Calvin
The students ended the three days with medals for the competition and folders containing chess problems, endgames, an example analysed game and certificates recording their attendance at the event.
At lunch times players could play new games they might not have played before - Manacala, Game of Urh, Othello, Mastermind......
Thanks to the Bowling Club and the local council for allowing us to use such an excellent venue.
Thanks to Geoff Hindley, Gareth Annesley and Matthew Chapman for coaching
Thanks to the students for being such enthusiastic chess players.
Tournament result:
Standings
Place Name                Feder Score

  1   Jake Patterson            5.5  
  2   Eoin O'Neill              5    
 3-4  Jonathan McKay            4    
      Hannah Patterson          4    
 5-6  Phoebe Patterson          3.5  
      Niall O'Neill             3.5  
 7-8  Calvin Patterson          3    
      Patrick McGurnaghan       3    
  9   Conal O'Neill             2    
 10   Michael Reid              1.5  
11-12 Adam McMillian            1    
      Seamus Douglas            1    
13-14 Ronan Amir                0    
      Lorcan Amir               0    

Photos from the event: