Kelly's Heroes exact revenge
(B&D Leagues 2014/15 Week 6) After their first team were whitewashed on Tuesday night by Ballynafeigh 1, their second team were pitted against Ballynafeigh 3 two nights later. They recorded an important win, but it wasn't enough to maintain their lead in Division 2 as Lindores 2 got a whitewash of their own against Ballynafeigh 5 to move into top spot.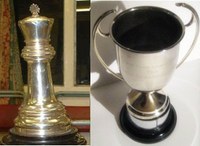 Division 1
Ballynafeigh 1 5-0 Belfast South 1
Ballynafeigh 1 closed the gap at the top of Division 1 to half a point with this whitewash of an under-strength Belfast South 1 side. First to finish was Brendan Jamison who reached a winning endgame against John McKenna. Wins soon followed for David Houston and Soren Jensen on the top two boards, securing the match for the home side. Stephen Rush made it 4-0 with a resourceful pawn breakthrough against David Ruben. It was left to Martin Kelly, with the white pieces on board 5 against Damien Lavery, to salvage something for the visitors. He came close to doing just that, after Lavery found himself in difficulties early on, having played the unorthodox 2 ... f5 in reponse to Kelly's trademark Vienna opening. However, the glacial rate of play in those opening stages - move 10 was not reached until after more than two hours of play - meant that time trouble was always likely to become a factor, and it was Lavery who held his nerve in the ensuing blitz finish.
Ballynafeigh 2 5-0 Bangor
Not wanting to feel left out, Ballynafeigh 2 racked up a 5-0 of their own against Bangor. Debutant Liam Ferris got off to a good start by defeating Owen Wilson, and Thomas Donaldson beat Garry Johnston soon afterwards. Ian Woodfield clinched the bonus points with a win over Ken Browne, but on the top two boards, Paul McGuigan and Paul McLoughlin looked well-placed to get results against Damien Cunningham and John O'Doherty respectively. McGuigan was a pawn up with a commanding position for much of his game, but allowed Cunningham back in it, and eventually had to face connected passed pawns in the endgame which proved to be unstoppable. McLoughlin, meanwhile, looked well on his way to achieving Bangor's first game win of the season - until, that is, he blundered his queen in time trouble.
Lindores 1 2.5-2.5 Ballynafeigh 1
The scheduled match between Lindores 1 and Fruithill was postponed; this previously postponed match was played in its place. Calum Leitch got the home side off the mark with victory over Soren Jensen. Ross Harris had a dangerous-looking outside passed pawn against Stephen Rush, but couldn't quite force it home and had to settle for a draw by perpetual check. Against Brendan Jamison, Fred MacDonald found himself in a position to promote not one but two pawns - unfortunately for the home side, he expended an inordinate amount of time in getting there, and his flag fell a few moves before he could promote the second pawn. In a level king and pawns ending against Ian Kilpatrick, Robert Lavery was in check and faced with a choice between a retreat that nevertheless kept the king in a relatively centralised position and more-or-less guaranteed a draw, and a riskier, more aggressive move towards the edge of the board. He chose the latter and lived to regret it as Kilpatrick swooped in to mop up his defenceless pawns. This meant that David Houston now had to beat the Ulster Champion, Gabor Horvath, to draw the match. With Horvath in time trouble, Houston piled on the pressure with an exchange sacrifice, and Horvath soon showed that even Ulster Champions can crack under time pressure.
Standings
| | Played | Points |
| --- | --- | --- |
| Ballynafeigh 1 | 5 | 29 |
| Muldoons 1 | 5 | 26 |
| Ballynafeigh 2 | 5 | 21 |
| Belfast South 1 | 5 | 16 |
| Lindores 1 | 4 | 13.5 |
| Fruithill | 3 | 4 |
| Bangor | 5 | 2.5 |
Division 2
QUB 1.5-3.5 Ballynafeigh 4
Wins for Mark Hewitt, John Price and Paul Anderson gave Ballynafeigh 4 the bonus points against QUB. Paddy Magee won for the home side, while Chris Roe and Barney McGahan drew their game.
Belfast South 2 3.5-1.5 Ballynafeigh 3
It was a much better week for "Kelly's Heroes" than for their Division 1 counterparts, as they defeated Ballynafeigh 3. Cathal Murphy set the tone for the night's proceedings with a blisteringly quick win over Gerard Bannon. William Storey then beat Bill Lavery, and Bernard Jaffa secured the match with an excellent bishop sacrifice against Chris Black. Eoin Carey pulled one back for the visitors against Steve Critchlow after Critchlow missed an important tactic, while Robert Lavery drew against Neil Green.
Lindores 2 5-0 Ballynafeigh 5
Lindores 2 took the Division 2 top spot in style with a whitewash against Ballynafeigh 5. Shane Keers, Jim McLean, Iza Bujak, David Barr and Andy Hughes defeated Norman Rainey, James Shaw, Billy Jackson, Suraj Tirupati and James Weir.
NICS 2.5-2.5 Muldoons 2
NICS drew with Muldoons 2 despite having looked well-beaten for much of the match. Bernard McCaughey put the visitors ahead with a win over Drew Ferguson. Geoff Hindley was on the attack early on against Pat McKillen, but McKillen defended well and Hindley had no answer to his counter-attack. Rodney Orr (1260) appeared to have the win in the bag against Peter Storey (792), but was checkmated after missing a tactic. This was just the start of the fightback as David Jackson came back from a pawn down to draw with Peter Wilson and Mark Newman, despite being under serious pressure early on, defeated Peter McGuckin.
Standings
| | Played | Points |
| --- | --- | --- |
| Lindores 2 | 6 | 30.5 |
| Belfast South 2 | 6 | 30 |
| Muldoons 2 | 6 | 26 |
| Ballynafeigh 3 | 6 | 21.5 |
| NICS | 6 | 20.5 |
| Ballynafeigh 4 | 6 | 18.5 |
| QUB | 6 | 15 |
| Ballynafeigh 5 | 6 | 5 |