Report from Brendan Jamison on the City of Belfast Chess Championships
The City of Belfast Championships were held in the bright and spacious upper floor of the QUB Student's Union over the weekend of 6th to 7th May 2017.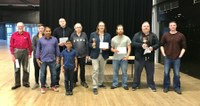 Report from Brendan Jamison on the City of Belfast Chess Championships
The City of Belfast  Championships were held in the bright and spacious upper floor of the QUB Student's Union over the weekend of 6th to 7th May 2017.
The tournament welcomed two child  players into their first UCU rated weekend tournament, 9 year old Nived Binu Daniel (700) from Dublin and Louie McConkey (873) who both competed in the Henderson Cup Competition, a section for players rated under 1600.
Nived scored an impressive round 1 victory over Adrian Dornford-Smith (1148) and contributed a lot of positive energy to the tournament. Meanwhile, Louie made a wonderful debut by scoring 3/6 and awarded the Joint Under 1000 Grading Prize. It was shared with Vincent O'Brien (919) who deservedly scooped his first chess prize after coming exceptionally close in other tournaments this year. Both players received a huge round of applause as they collected their awards.
The Under 1150 Grading prize was awarded to chess veteran Geoff Hindley, former President of the UCU and perpetual gentleman. The second place spot was a close contest between Martin Kelly (1359) and his Belfast South team-mate William Storey (1343). They duelled in the final round with ferocious intensity but William came out on top to seal the victory with 4.5/6, walking away with 2nd place as Martin ended in joint 3rd, alongside Cathal Murphy (1329) and John McKenna (1526), with all three finishing on 3.5/6. The star of the day, Pat McKillen (1311) ended with an impressive unbeaten run of 5.5/6 and picked up the Henderson Cup for the 4th time! Pat can now enjoy having his name engraved as the 2017 Champion, alongside his winning years of 2015, 2014 and 2006.
The Nemtzov Cup competition (for over 1600 rated players) was perhaps the most topsy-turvy chess event in recent years! From last minute withdrawals due to sickness, players failing to show up for round 1 and then a further 3 withdrawals after the first day, it was becoming hard to predict who would scoop the 3 awards on offer!
Two players who were under 1600 rating but had demonstrated a high turn-over of tournament prizes this season, 13 year old Russian chess prodigy Daniil Zelenchuk (1463) and Lithuanian chess supremo Modestas Razbadauskas (1412) were both allowed to 'play up', a scary thought for some of the senior class players! The field was extremely strong with two Polish players from Derry entering the mix, Kamil Marchlewicz (FIDE 2068) and Damian Marchlewicz (FIDE 1948) who joined regular tournament champions Gareth Annesley (1908) and Stephen Rush (1799).
Daniil excelled in his first senior competition in classical chess, picking up wins against Robert Lavery (1601) and Richard Morrow (1530) combined with impressive draws against Danny Roberts (1830) and Modestas Razbadauskas (1412). In the final round he even won the exchange against Gareth and exerted considerable pressure right up until the endgame. However, Gareth's Rook and double Knights were menacing in the centre of the Board and Daniil offered the exchange back but missed that he was losing a pawn on his left flank, a fate that sealed the outcome of the game. Gareth Annesley was crowned the 2017 Nemtzov Champion with a final score of 5/6 but Daniil still finished with 3/6 and ended in 4th place, proving he deserves to play in senior sections from now on.
The under 1700 grading prize was awarded to Modestas Razbadauskas who finished in 3rd place with an excellent score of 3.5/6. In the end, the only major rival to Gareth's dominance was current Ulster Champion Stephen Rush who ended the day on 4.5/6, just half a point behind the leader and he was awarded the much deserved 2nd place.
It is worth noting that weekend tournaments like this do not happen by magic. Much time and effort is poured into the marketing, the running and the set-up. Special thanks to Ross, Dexter and Blake Harris for giving up their entire Friday night to set up all the beautiful wooden chess sets for everyone to enjoy as they arrived first thing on Saturdaymorning. Also a big thank you to Ross Harris for running the tournament during rounds 1 and 2 and then Mark Newman controlling rounds 4 and 5 on the Sunday. Also, Adrian Dornford-Smith for publishing the results at the end of each round to ulsterchess.net. Rhys McLean, Nived Binu Daniel and Richard Morrrow all worked as a great team to pack up the sets, boards and clocks after the prize-giving. Their help was greatly appreciated and hopefully it will inspire others to help out in the future.
NEMTZOV CUP





Under 1700 Grading Prize: Modestas Razbadauskas





2nd: Stephen Rush


Champion: Gareth Annesley
HENDERSON CUP





Joint Under 1000 Grading Prize: Louie McConkey





Joint Under 1000 Grading Prize: Vincent O'Brien

Under 1150 Grading Prize: Geoff Hindley
2nd Place: William Storey

Champion: Pat McKillen

The next weekend tournament is the Ulster Championships at the beginning of September at the Europa Hotel. Hopefully we will see many of you at it and in the meantime, enjoy your summer and keep playing chess at every opportunity possible!